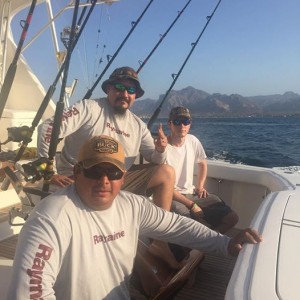 One of the things that makes me most proud to call San Carlos my home is all the charitable organizations that are active here. Whether you want to help people, pets or the fishes and mammals of the sea, you'll find something here for you.
One organization I learned about last week is the Healing Waters Project – Ft. Huachuca, Arizona. They strive to provide fly-fishing experiences for disabled, currently serving members of the military, as well as veterans. This organization sees fishing as a very healing process for those who have experienced the physical and mental challenges of warfare.
So, what's the San Carlos angle for this chapter of a national organization in the U.S.? Back in 2010, Drs. Michael and Norman Don of San Carlos decided to alter the Healing Waters idea slightly…….. and take some disabled veterans deep-sea fishing in San Carlos. Fast-forward to 2015 and a number of the most prominent fishing boat owners and skippers in San Carlos have thrown in their support. This year's tournament took place this past weekend.
A number of sponsors from Arizona and San Carlos donate goods, services and money to make sure the experience is a good one for the veterans. The list of sponsors is a long one and includes: Casa de Amigos Rentals, Hammerhead's Dockside Bar & Grille, Siesta Realty, Safari Club International (Phoenix and Arizona chapters), Tucson Tamale, Chamberlain/Liftmaster and Raymarine electronics, to name a few. And there are individuals donating their time, money and services, too. People like Kurt and Patty Budnik, Michael and Jazmin Willard, Jim and Betty Jo Weaver, Mark and Rachelle Benishek, Irvine Jontow and Gail Beave and Sam Edwards.
But you can't have a fishing tournament like this without people willing to donate space on the rail of a fishing boat. This year, the generous boat owners were Gene Holloway on Valhalla, Wade and Judy Earl on Kryptonite, Ernesto and Rosa Zaragoza on Magnum, Sean and Kate Lawley on Dealmaker, and Morgan and Eleanor North on Predator. And assisting the veterans were some of the finest fishermen in San Carlos, serving as deckhands. Most notable in this category were Steve Calvert and Bryan Replogle. The veterans even have concierge service on the boats!
Former Army Lt. Colonel Cosme Lopez is the guy in charge of finding the veterans who are deserving of being in the tournament. Of particular interest are veterans who sometimes have had trouble reintegrating themselves into civilian life.
There is one veteran, U.S. Army Specialist Alex Jacquez (pictured on left), whom Cosme has been trying to get down to San Carlos to fish in the tournament for five years. Jacquez was an infantryman in Iraq in 2003 and sustained a head injury.
He tells me his reintroduction into society hasn't been easy and he wasn't ready, mentally, to begin socializing with civilians, when he returned from Iraq. The simplest social occasions were difficult and he would retreat into himself and distance himself from family and friends. He contemplated suicide and underwent therapy three times for these thoughts.
Then, a few years ago, he decided he had to start forcing himself into civilian social life. His first test…….Disneyland in California. And each year, since, he takes a trip to California for some social immersion. He began to make so much progress that he is now COUNSELING other veterans who have suicidal thoughts.
Finally, in 2015, Alex Jacquez felt he could tell Cosme that he was mentally ready to fish on a boat with civilians and veterans like himself, for 7-8 hours, with no chance of getting away from them.
And he loved it! So much so that U.S. Army Specialist Alex Jacquez, who had never been on a boat in the ocean, much less fished on one, took top honors at the tournament!
by PJ Schramel