International Fiestas del Pitic is a celebration of Dance and Music in Hermosillo. From Thursday, May 25 to Sunday, May 28, 2023 there will be daily national and international musicians and performers in venues throughout the historic center of Hermosillo (venues such as Foro Rosales, Alonso Vidal, Foro Infantil, Callejon Valesco, Foro Urbano, Foro Marcella, Plaza del Mezquite, Plaza Bicentario, Plaza Hidalgo, Palacio de Gobierno and others).
Fiestas del Pitic is a cultural event celebrating the 323rd Anniversary of the founding of Hermosillo, the capital city of Sonora.
From May 25 to 28, enjoy with your family the largest artistic and cultural event in Hermosillo. All performances are free. Check the program below.
The Fiestas del Pitic 2023 will be inaugurated at the Rosales forum on Thursday, May 25 by Julión Álvarez and his band.
Fiestas del Pitic 2023 Programa
Julión Álvarez. Thursday, May 25, 10pm, Foro Rosales.
Diego Torres. Friday, May 26, 10pm, Alonso Vidal.
Natalia Jimenez. Saturday, May 27, 10pm, Alonso Vidal.
Sebastian Yatra. Sunday, May 28, 10pm, Alonso Vidal.
May 25
May 26
May 27
May 28
Rutas Culturales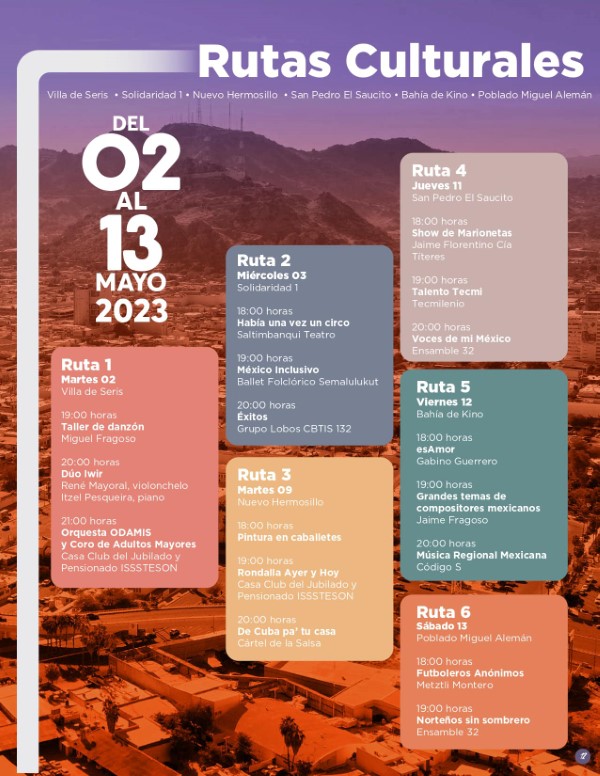 Foros Mapa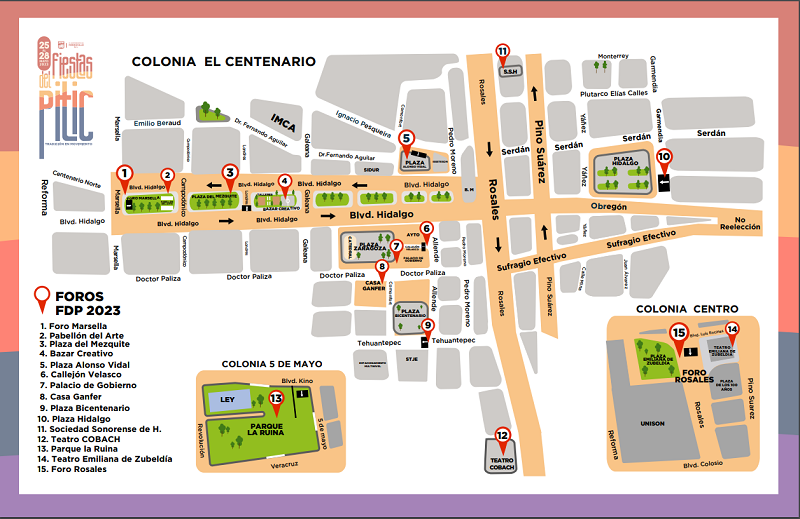 Facebook: FiestasdelPitic
Website: fiestasdelpitic.hermosillo.gob.mx
La celebración por la fundación de Hermosillo cumple veinte años creciendo y alegrando a los ciudadanos que tenían grandes expectativas