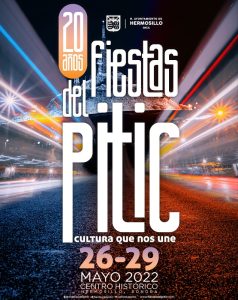 International Fiestas del Pitic is a celebration of Dance and Music in Hermosillo. From Thursday, May 26 to Sunday, May 29, 2022 there will be daily national and international musicians and performers in venues throughout the historic center of Hermosillo (venues such as Plaza Bicentario, Plaza Hidalgo, Parque la Ruina, Plaza Alonso Vidal, Calle Rosales, Foro Urbano, Palacio de Gobierno and others).
Fiestas del Pitic is a cultural event celebrating the 322nd Anniversary of the founding of this capital city of Sonora.
From May 26 to 29, enjoy with your family the largest artistic and cultural event in Hermosillo. All performances are free. Check the program below.
Facebook: FiestasdelPitic
Fiestas del Pitic 2022 Programa
Christian Nodal, Moderatto, The Mud Howlers, La Garfield, Simpson Ahuevo, Grupo Yndio and Los Apson are some of the artists who will be performing.
In the Plaza Bicentenario there will be artists such as Grupo Yndio, A Love Electric, Gran Sur and Rebels Cats.
The Sonora Philharmonic Orchestra, Los Apson and the Sonora Music Band will perform atPlaza Alonso Vidal.
The Urban Forum will host artists such as LaFontaine, The Mud Howlers, La Garfield and Simpson Ahuevo.
Star guest rock musicians, Moderatto will take over the stage of Plaza Alonso Vidal, while the Mexican regional artist, Christian Nodal will make the people of Hermosillo dance and sing in the Rosales forum during the closing of the festivities.
La celebración por la fundación de Hermosillo cumple veinte años creciendo y alegrando a los ciudadanos que tenían grandes expectativas