Horseback riding in San Carlos Sonora Mexico is fun for the whole family. You can explore the desert and ride along the beaches.
Make your way through beautiful desert scenery, discovering wildlife along the way … or thrill to the ride through the waves and along the wind-swept shores by the sand dunes.
These stables are easy to get to and will take you on exciting guided tours and trail rides for all levels of riders.
---
Astrid's Ranch – El Rancho del Desierto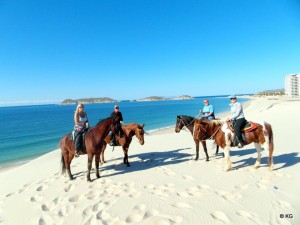 Ready to horse around a little? Then come ride marvelous alabaster beaches or enjoy the solitude of the mystical Sonoran desert with Astrid's Ranch – El Rancho del Desierto.
They offer many affordable guided trail rides for all levels and ages of riders, ranging from 1 hour – 4 hours, every day of the week.
Rides cost only $25 USD per hour. Trail rides along the beach. Through the desert. See the Catch-22 movie location. For longer rides in cooler weather, there are trail rides to the canyons and to La Manga. The guides are experienced horsemen and they'll provide you and your friends with lots of fun and adventure.
Phone: 044-622-855-5930
Email: astridranch@hotmail.com
Address: El Rancho del Desierto is located by KM 18.50. Drive on the dirt roadway on the right just before the entrance of Algodones beach (there is a sign) where the seminary is, and then take the second dirt road to the right (where another sign is). Stop by or call Astrid at 044-622-855-5930.
Facebook