Hospital Cima Hermosillo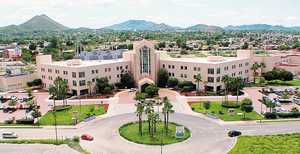 World Class Hospital in Hermosillo
Hermosillo, the capital of Sonora, is home to a world class hospital and has recently received international recognition as such. The Joint Commission International has designated Hospital Cima Hermosillo as a world-class hospital.
The Joint Commission International regulates and evaluates hospitals worldwide. Hospital Cima Hermosillo is one of only about 100 hospitals in the world that has such accreditation.
Cima has partnered with a major U.S. insurance company to offer services to U.S. patients. Blue Cross and Blue Shield members of Companion Global Healthcare Inc. can now seek treatment at Cima Hermosillo. Cima is now one of 20 hospitals in Global's network.
Under the agreement, members are covered for procedures such as cardiology, gynecology and orthopedic surgeries. "These are typically very expensive procedures in the U.S., whether you have insurance or you don't," said Steven Foster, the hospital's CEO. Surgical procedures run about 60 percent less than the average U.S. procedure, added Foster.
Cima's doctors are U.S.-trained and speak English. Bilingual staff members accompany patients through the process. "You don't need to know Spanish to come here," Foster said. And that's good news for U.S. patients seeking world class care at a fraction of the cost.
Source: Arizona Daily Star