Mexican Bus Information on Tufesa, TAP, TBC, Estrellas del Pacifico and Mayitos.
Tufesa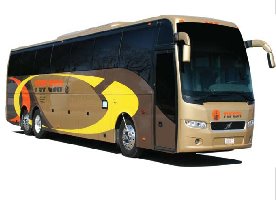 Taking a Tufesa bus from Arizona to Guaymas is convenient, comfortable, cost-effective and easy to use. You can reach Guaymas with Tufesa from numerous points in the US, inlcuding Phoenix, Tucson, Las Vegas and Las Angeles.
Address: Calzada Agustín García López, between Ave 12 y Ave 14 Guaymas
Phone: in Guaymas: 622-222-5453; in Phoenix 602-415-9900; in Tucson 520-294-3780
Once in Guaymas, you can take a 20 minutes cab ride to San Carlos (about 250 pesos). There are cabs right outside the bus station.
TAP
Transportes y Autobuses del Pacifico (TAP).
TAP Guaymas address: Calzada Agustín García López, between Calle 14 and Ave 12, Guaymas
Phone: 622-221-9208
TBC
TBC Bus Lines has service from Guaymas to Phoenix and Tucson.
Address: Calle 14 No. 81 Col. Centro
Phone: (642) 421-04-24 (Mexico) | (602) 258-2445 (USA)
albatrosautobuses.com
Estrellas del Pacífico
Telephone: (622) 224-4067
Address: Calle 14 No. 79, Col. Centro, Guaymas
Autobuses Mayitos
Telephone: (622) 222 17 87
Address: Calle 14 S/N, Col. Centro, Guaymas
Book Your San Carlos or Guaymas Vacation Rental (with Booking.com)