Looking for Mexican Holidays, fun events, festivals and fiestas for your vacation?
Mexican Holidays, Festivals,  and Fiestas
2016 – 2017
July 2016
July 18. Anniversary of the death of President Benito Juárez (March 21, 1806 to July 18, 1872).
July 30. Anniversary of the death of Miguel Hidalgo, leader of the Mexican War of Independence (May 8, 1753 to July 31, 1811). This is NOT a national holiday.
August 2016
August 8. Anniversary of the birth of Emiliano Zapata (b.Aug 8, 1879, d.April 10, 1919).
September 2016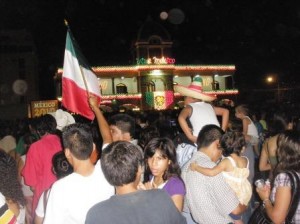 September 1. Annual State of the Union.
September 13. Los Niños Héroes, Hero of the Mexican-American War 1847.
September 15. "El Grito" for Mexican Independence Day.
September 16. Día de la Independencia / Mexican Independence Day. Parades.
October 2016
October 12. Día de la Raza / Day of the Races.
October 31. Halloween Parties.
October 31 – November 2. Day of the Dead.
November 2016
October 31 – November 2. Day of the Dead.
November 1-2. All Saints Day & Day of the Dead (Día de los Muertos) is an important Mexican holiday.
November 21. Día de la Revolución (Revolution Day) is observed the third Monday in November. This official Mexican holiday commemorates the Mexican Revolution of 1910. Parades. This day is a legal holiday for financial institutions – please note that all banks will be closed.
November 18 – 21: Buen Fin.
December 2016
December 12. Día de Guadalupe (Day of Our Lady of Guadalupe), Mexico's patron saint. This is a National Holiday.
December 16-24. Las Posadas- nine days of traditional festivities.
December 24. Noche Buena (Christmas Eve).
December 25. Christmas / Navidad. December 25 and 26 are National Holidays.
December 28. The Holy Innocents National Holiday similar to April Fools's Day, celebrated with lots of practical jokes.
December 31. Fin de Año/New Years Eve.
January 2017
January 1. Año Nuevo/New Years Day is an official Mexican holiday that will be observed on Monday, January 2, 2017 (because New Year's day falls on a Sunday in 2017).
January 6. El Dia de Reyes (Three Kings Day).
February 2017
February 6 (the first Monday in February). Día de la Constitución an official holiday that commemorates Mexico's Constitution.
February 22 – 28. Carnaval Guaymas (info and schedule). Days of parades, fiestas and fun in towns around Mexico.
March 2017
March 20 (third Monday in March). Benito Juárez's Birthday Memorial. Benito Juárez was a famous Mexican president and national hero. This is an official Mexican holiday.
April 2017
April 9 – 17. Semana Santa (Easter week).
April 13. Maundy Thursday (the Thursday before Easter Sunday).
April 14. Good Friday (the Friday before Easter Sunday).
April 16. Easter Sunday.
TBA. ExpoGan Sonora and Palenque in Hermosillo.
May 2017
May 1. Dia del Trabajo. Mexican national holiday (similar to US & Canada Labor Day).
May 3. Día de la Santa Cruz. Construction workers decorate and mount crosses on unfinished buildings.
May 5. Cinco de Mayo.
May 10. Mother's Day in Mexico. This is not a public holiday.
May 15. Teacher's Day in Mexico.
TBA. Festival del Pitic in Hermosillo.
June 2017
June 1. Dia de la Marina (Mexican Navy Day). Official Mexican holiday. Celebrations in seaports around Mexico.
June 18. Father's Day. Celebrated the third Sunday in June. This is not a public holiday.
This is a list of the major annual Holidays, Festivals and Fiestas and special events in Mexico.
Whether you're looking for information on a Mexican Holiday or holiday, you'll find it here.
All year long, there's something fun going on in the beach towns of San Carlos Mexico. Check out the Events in San Carlos.
For more event and entertainment information, including a list of who's playing where, and a daily calendar of what's going on this week, check the newsletter.