Ranchitos Campestres – A Gardener's Paradise
By John Thomas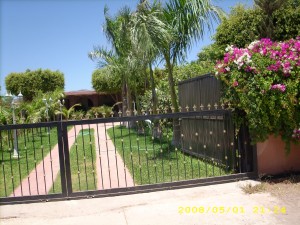 Situated between the more intense development closer to Tetakawi Blvd and the hills to the north ("Cerro Canteras"), the Ranchitos comprise one of the largest sectors in San Carlos. Are they really "little ranches", as the name implies? It's not uncommon to hear roosters crow in the morning and evening, or to see horses or cattle on the roads. But the closest thing to a real ranch is probably the chicken "farm" on the north-east border.
All lots here are 1,000 square meters (about ¼ acre), which means that there's plenty of room to allow for a house, carport, rv/boat parking, and swimming pool, and still have trees and a large garden. Many residents have purchased 2 adjacent lots, and now have room for more of the above-noted amenities plus a guest or rental casita.
In fact, that's what appeals so much about the Ranchitos – big, flat spaces. Take a tour of this part of our community, and you'll be amazed at the vibrant growth. Most developed properties are enclosed by walls or fences and gates, but palms soar above the walls, bougainvilleas splash their spectacular colors over and through the barriers, and a glimpse of the landscape behind the walls reveals citrus orchards, shaded terraces, and beautiful gardens.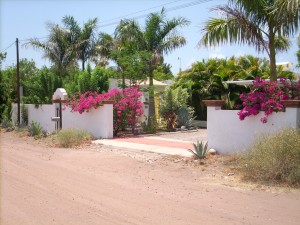 Even a quick look will convince you that just about any heat-tolerant plant, including flowers and vegetables, will grow here in abundance, just by adding some water. If your taste is more for native desert species, all that room means you can have a cactus garden without the worry of bumping into the spines. And did I mention the birds? With all that lush greenery to attract them, innumerable songbirds serenade from sunup to sundown, and many colorful species, from Cardinals to Vermilion Flycatchers, delight the senses.
Because this is a rural sector, there is no community focal point such as a park or commercial area. But, scattered through the Ranchitos are churches and small stores, commercial establishments such as Carmelita's Ranch Nursery, and the Construrama Ferreteria. And, the only elementary school in San Carlos is located here.
Without development restrictions, property owners are free to develop as they please. That means your neighbor could be operating a carpentry or auto shop, but it also means that you can build whatever you want. For example, an enterprising group of four couples developed two adjoining lots. Not with permanent houses, but with patios and services for their four motor homes (you may have noticed the pirate flags over their rigs). You can also build as high as you want to capture the views of the sea and the back mountains. Not that you need to build high. The area slopes gently up from the sea, so many one-story houses with a roof deck can get sea views. And many properties have unobstructed Tetakawi and back mountain views, even from ground level.

According to a local San Carlos realtor and Ranchitos resident, the typical asking price for raw (unserviced) lots will be in the range of $25,000 to $30,000 (US) dollars. A lot already serviced with city water, power and a septic system could be in the range of $35,000 to $38,000 dollars. Resale prices of houses will be upwards of $175,000, and a nicely developed and landscaped double lot – remember, that's about ½ acre – with a newer, larger house could be around $300,000 dollars.
Despite the lack of a physical focus, the Ranchitos still maintains a sense of community, largely through the connections among residents, friendly "farmers" willing to share the bounty of their harvests with their neighbors.
Are there any downsides here? Well, the roads are rough and dusty, but the locals will tell you that just adds to the rural look and feel of the Ranchitos – country living near the heart of San Carlos.