Poseidon Wreck Dive: The wreck lies 47 miles north of San Carlos, about 6 miles off the coast. The ship is at a depth of approximately 65 feet and has become an artificial reef. It is complete and has not split into two as had earlier been feared.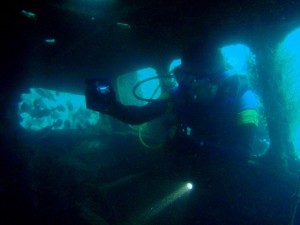 A crew from El Mar Diving Center Mexico found the sunken boat, Poseidon's Mistress. In 2010, the El Mar Mexico crew, on board the "Piesquita", successfully found the live-in-board boat which sunk in 2001 in the Sea of Cortez, just south of Kino Bay. The crew returned with the salvaged anchor of Poseidon's Mistress.
The Poseidon was brought from Miami, across the Panama Canal to San Carlos. The 104 foot boat was used as a live-on-board, with separate cabins and an air compressor on the boat.
The Poseidon left for San Pedro Martir with 16 passengers and the ship's staff and crew. During Hurricane Juliette the boat broke down and sunk on September 30th, 2001. The passengers spent more than 24 hours adrift at sea. Fortunately all survived.
In 2010, Richard Johnson and Ray Gundy told employees at El Mar of their desire to go looking for the boat. They collected information from fishermen in Bahia Kino and Guaymas. During these converstaions, they learned that fishing gear had gotten stuck in what was possibly the Poseidon. Armed with that information, after a quick search, the Poseidon was found.
El Mar divers reported an abundance of marine life on the reef. Given the conditions, El Mar recommends that this dive not be made by beginners, but by professional and experienced divers.
Videos of Poseidon Wreck Dive

Check out this video diving the newly discovered sunken boat, Poseidon's Mistress with a crew from El Mar Diving Center and some of the survivors of the Poseidon.
Expedición Poseidon Marzo 22, 2010 – Integrantes de la expedición:
Richard Johnson – Jefe de Expedición
Ray Gundy – Encargado de la Seguridad de la expedición
Hirám Razcón – Capitán del barco Piesquita y sobreviviente del Poseidon
Jose Luis Chávez – Integrante de expedición
Allan Larrañaga – Integrante de la expedición
Samuel Estrada – Integrante de la expedición
Gerardo Martinez – Marinero de barco Piesquita