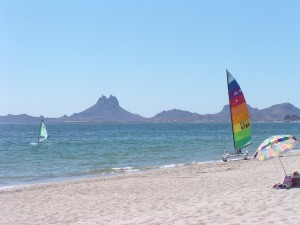 Sailing
Learn to sail with Sonoran Sport Center. They offer ASA certification on four levels: Basic Keelboat, Coastal Cruising, Bareboat Charter, and Cruising Catamaran.
San Carlos Aquatic Adventures rents and gives lessons on Hobie catamarans and windsurfers at Pilar Beach.
The Tucson Sailing Club holds two annual regattas in San Carlos: a spring regatta in May and a fall regatta in November.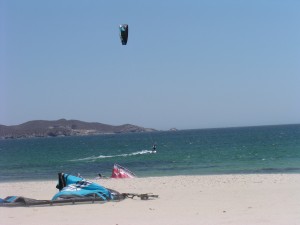 Kiteboarding
This is a fun sport to watch from Algadones beach when the winds are up.
You can rent kiteboard equipment and take lessons from Sonoran Sport Center.
Donald Gray has a blog that will keep you up to date on kite conditions and happenings.
Ready to hop on a board, grab a huge kite and let the wind pull you through the water? The place to kite board in San Carlos Mexico is at Algadones beach in front of the Hang Out.
Check out this KiteSurf San Carlos video … it has great aerial footage of the Soggy Peso / Algodones beach area
Learn to kite in San Carlos with Darren or Ramon (featured in the video above) at Kiteboard School.
Video of kiteboarding at Algadones beach, San Carlos Mexico
Useful Websites: