Join the 2nd Annual San Carlazo Desert ATV and UTV tour.
Here's your opportunity to ride your Razor, 4-wheeler, Quad, ATV, or Motorcycle throughout unexplored desert trails in San Carlos, Sonora, Mexico – where the desert meets the sea.
This exciting event takes place on Friday, May 12 to Sunday, May 14. Check out the video below.
2107 Schedule:
Friday, May 12:
5pm – 12am: Icebreakers and exhibits on San Francisco beach in San Carlos. Includes multiple vendors, sports, live entertainment. Food and drinks will be available for purchase at the beach.
Saturday, May 13:
10am: Tour starts from San Francisco beach. Explore the natural beauty of the area.
11am: lots of activities at San Francisco beach, including beach games and vendor stands
12pm: live music.
5pm: Return of participants to San Francisco beach.
8pm: Live music; Awards presentations; Party on the beach.
Sunday, May 14:
12pm: music
1pm: start demonstration free style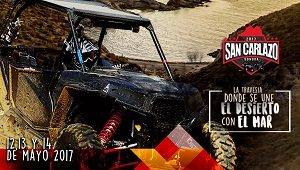 Programa:
VIERNES 12 de Mayo
17:00 a 12:00 horas rompehielos concentración (Exhibición de stand comerciales, deporte, música, entretenimiento).
SÁBADO 13 de Mayo
10:00 horas banderazo de salida explorando nuestras bellezas naturales de nuestro destino. Mientras se realiza el recorrido en el lugar sede se llevaran cabo diferentes actividades recreativas. (Exhibición de stands comerciales, deporte, música, entretenimiento).
11:00 horas inician juegos deportivos y concursos diversos.
12:00 horas iinician grupos musicales
17:00 horas cregreso de participantes en travesía y exhibición de los mejores vehículos motorizados.
20.00 horas rinicia variedad musical.
DOMINGO 14 de Mayo
12:00 horas inicia música
13:00 horas inicia demostración free style
Cost to participate in this 3-day event:
Razors – 2,300 pesos (2 people included in this price). Additional riders cost 450 pesos each.
Motorcycles, ATVs/Quads/4-wheelers – 1,500 pesos (1 person included in this price). Additional riders cost 450 pesos each.
Includes: Access to event, event T-shirt, registration plate, participant bracelet, meal after the ride, marked trail through areas of the desert that are usually restricted access, mechanical service if required, bathrooms at the beach, live entertainment, security and first aid.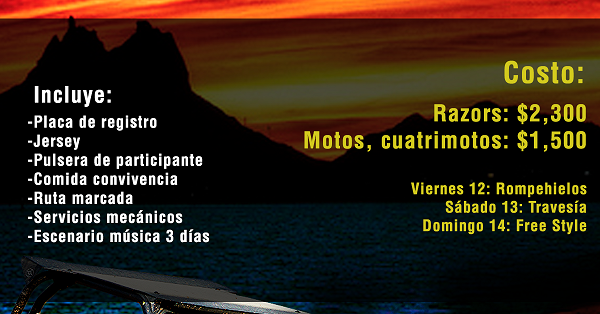 Register Now: you can pay at an OXXO, or through HSBC bank. Click here for payment information.
For more information about the San Carlazo event, check out their website at www.sancarlazo.com, or Facebook at San Carlazo. You can also contact event organizer, Servando Rodriguez, at 622-112-5152, who speaks English and by email sancarlazo@hotmail.com.
Riders must wear a helmet and seat belts must be used. Gloves, goggles, and scarves are recommended as the ride will be dusty in the desert.
Join the journey through San Carlos and feel the adrenaline! Don't miss your chance to get in on the action for this inaugural event!
Don't have a Razor or Quad…don't worry. The community is still invited to come out to San Francisco beach, check out the action and live entertainment, and join in on the festivities on Friday and Saturday. Food and drink stands will be available. Cover is 50 pesos.