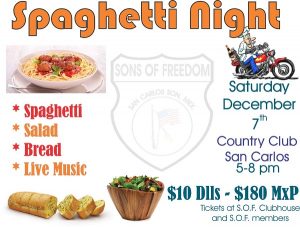 The Sons of Freedom's Spaghetti Night dinner / fundraiser will be held on Saturday, December 7, 2019 at the San Carlos Country Club from 5:00pm – 8:00pm. Dinner includes spaghetti, salad, and bread.
There will be live music and a 50/50 raffle.
Tickets are 180 pesos ($10 USD) each and are on sale from any Sons of Freedom member and at the Son's of Freedom Clubhouse.
All proceeds go to local charities.
For more information, contact Frank at [email protected]
Sons of Freedom Spaghetti Dinner Fundraiser, photos by Jacqui Percious.