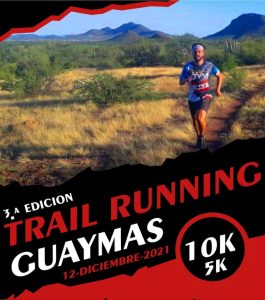 Everyone is invited to compete on Sunday, December 12, 2021 in a Trail Running Race at Pista Estero del Soldado starting at 7:30am.
Run 5k or 10k and compete in your age category.
The cost is 250 pesos. The first 200 registrants will receive a free event t-shirt. Register online here.
Pick-up your race package on Saturday, December 11 from 3:00pm to 8:00pm at Hotel Armida in Guaymas.