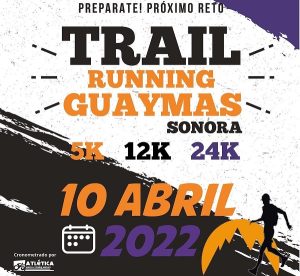 Everyone is invited to compete on Sunday, April 10 in a Trail Running Race at Agua malas Track in Guaymas starting at 7:00am.
Run 5k, 12k or 24k and compete in your age category.
This race is the 6th stage of the Trail Running series. It is a cross-country race where runners will go through all kinds of terrain.
The cost is 300 pesos (5k), 400 pesos (12k), and 450 pesos (24k). Register online here before April 8.
Pick-up your race package on Saturday, May 9 from 2:00pm to 6:00pm at Hotel Armida in Guaymas.