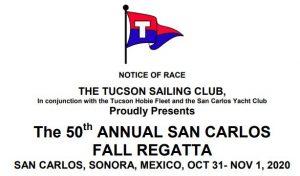 Sail the Sea of Cortez in the annual Tucson Sailing Club Fall Regatta from October 31 – November 1, 2020.
The Fall Regatta is an open water race around the islands in the large bay outside the anchorage and Marina at San Carlos.
Whether your boat is made for speed, or padded for comfort, and whether you're new to racing or an ocean racing veteran, you will have a great time racing with the Club. All are invited to participate.
Courses charts will be distributed at the Captain's meeting: Low and Spin Fleets will race the same course as last May. That seems to be the consensus of those surveyed. The First annual Fall Regatta Race to Pilar trophy will be up for grabs on Saturday. First to the Pilar finish leg will be at the Pilar mark on the leg prior to the finishing leg. No handicap adjusts. Pure speed to the mark. Cruising fleet will have the same course as last May but will be tacking to the first mark.
Registration for Tucson Sailing Club Fall Regatta:
Early registration, Club members – $50 USD
Early registration, Non-members – $55 USD
Late registration – $85 USD
Fee includes race registration only. There will be no social events this year (no dock party or awards dinner).
2020 Regatta registration now open: http://tucsonsailing.com/tsc-upcoming-events/
For more information, contact Tucson Sailing Club Fall Regatta Race Director, Tony Krauss at 520-955-2769 or abkrauss@cox.net.
Tucson Sailing Club 2020 Fall Regatta Event Schedule:
Friday, October 30
5:30pm – 6:30pm: Race Registration and Race Packet pickup – Marina San Carlos, Dock 'D'.
THIS IS THE ONLY OPPORTUNITY FOR ONSITE REGISTRATION.
There is NO DOCK PARTY
Saturday, October 31
NO SKIPPERS MEETING
10:45am – First Flag Shape
Sunday, November 1
10:45am – First Flag Shape
NO AWARDS BANQUET. Awards distribution TBD
Course Chart for Tucson Sailing Club 2020 Fall Regatta