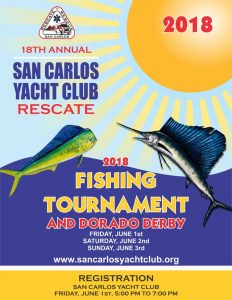 Come fish the magic waters of San Carlos. The 2018 Yacht Club / Rescate Fishing Tournament will take place from June 1 to 3.
This is an event where a lone angler could enter and for no more than the entry fee walk off with several thousand dollars in prize money. There are Daily Angler Awards and both Fun Fish Jackpots and regular Jackpots.
The entry fee is $150 USD per angler (there's no boat fees).
The entry fee entitles each angler to a souvenir fishing t-shirt, tickets for the awards dinner and these daily angler awards:
* Each day, $500 is awarded to the first billfish hook-up / release.
* Each day, $500 is awarded to the largest dorado, yellowfin tuna, or wahoo (minimum of 12 lbs).
Other buy-in jackpots are available.
Pre-Register:
Anglers who pre-register before May 18 can have their boat name on the sleeves of the special fishing long sleeve T shirt. Pre-register here.
The Rules:
Read the complete 2018 Tournament Rules here. Get your fishing licence online here.
2018 Yacht Club / Rescate Fishing Tournament Schedule:
Registration: Tournament Registration and Cocktails at the San Carlos Yacht Club on Friday June 1, from 5:00pm to 7:00 pm. The Tournament Committee will be available at Registration to answer questions. A Captains Meeting will follow at 7:00pm.
Fishing:
Saturday, June 2, fishing starts at 7:00am and ends at 4:00pm.
Sunday, June 3, fishing starts at 7:00am and ends at 3:00pm.
Awards Dinner:
The Awards Dinner will be held at the San Carlos Yacht Club Sunday Evening, June 3. The bar will open at 6:00pm with dinner at 7:00pm and Awards after dinner.
Rescate / Yacht Club Fishing Tournament Results
2017 Tournament Results:
73 anglers on 21 boats competed in the 2017 San Carlos Yacht Club Rescate Fishing Tournament. 178 billfish were released. Reel Mistress won, and Kryptonite and El Patron came in 2nd. Here are the complete results:
Junior Division – under 13
#1 – Robert King Junior – 450 points fishing on Reel Office
#2 – Dakota Van Weelden – 300 point fishing on Edventure
Overall Results:
1st place Reel Mistress – 3750 points
2nd place Kryptonite – 3450 points
2nd Place El Patron – 3450 points.
First Sailfish Release each day award:
Saturday – Wade Earl – Kryptonite
Sunday – Doug King – Chaca Chaca
Funfish Angler Awards daily:
Saturday Tamara Williamson – Dorado 14.4lbs, fishing on Predator
Sunday no qualifying fish.
San Carlos Yacht Club Member Award:
Wade Earl – Kryptonite
Top Captains:
1. German Estrada – Reel Mistress
2. Roberto Amador – Kryptonite
2. Jilbento Iachica – El Patron
2016 Tournament Results:
19 boats competed in the 2016 San Carlos Yacht Club Rescate Fishing Tournament.
Telamon won (congratulations Bryan Replogle), Predator came in 2nd and Kryptonite in 3rd.
Telamon pulled off a close victory by a few fish over Predator with 25 releases.
Most boats had pretty good fishing, with a few dorado to eat. Some 20 – 25 pound dorado were caught, with some losing a couple at 30 pounds.
2015 Tournament Results:
With temperatures in the low 90's and flat seas to start, the two day fishing tournament was a resounding success.
Boats came from Navojoa and Hermosillo in Sonora and as far away as California and Colorado, with many "local" fishers from Arizona taking part in addition to local San Carlos boats, some of whom were first-time entrants.
Overall winner was "Reel Mistress" with a total of 21 Billfish released for the two days.
Overall second was "Telamon" with a total of 12 Billfish released for the two days.
Overall third was local boat "Kryptonite" with a total of 9 Billfish released.
1st: Pay It Forward; 2nd: No Limit; 3rd: Cortezano for $300 jackpot Billfish division.
There were 55 anglers competing for a variety of prizes in particular, the first released Billfish each day was worth $500 US to the lucky angler. Ironically, the same person managed to win both days! – Ken Diaz, on Telamon – Congratulations!
The largest fish in the "fun fish" category was awarded to Mike Wusterbarth on Margarita IV for Saturday's award, and to Pedro Almada on the boat Tres Mitades from Navojoa for Sunday's award.
Other winners were Margarita IV – Dorado division.
Top Captains were:
1st: Herman Estrada
2nd: Jesse Hernandez
3rd: Roberto Amador
After a high spirited awards ceremony, many boats donated extra money to Rescate, thereby helping even more towards the various life-saving endeavors of our local service.
2013 Tournament Results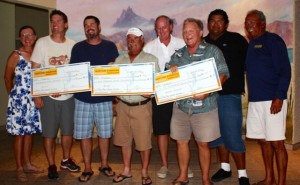 Official Results:
Winning Team – Predator (pictured right)
Second Team – Kryptonite
Third Team – Telamon
1st – Predator Captain, Morgan North
2nd – Kryptonite Captain, Roberto Amador
3rd – Telamon Captain, Jesse Hernandez
Largest Dorado – Pilo Quintana on Lucky Ducks
Totals:
Saturday – 182 Released billfish
Sunday – 98 Released billfish
Click to see more photos
2010 Tournament Results
102 anglers in 27 boats competed in this year's Rescate / Yacht Club Fishing Tournament.
The final results were:
Lucky Ducks: owner Steve Fusco with 4 anglers and boat captain Rafael Fimbres with 469.6 points.
DiBecca: owner Dave Butrum with 3 anglers and boat captain Sunny with 300 points.
Kryptonite: owner Wade Earl with 4 anglers and boat captain Juan Gastenau with 300 points.