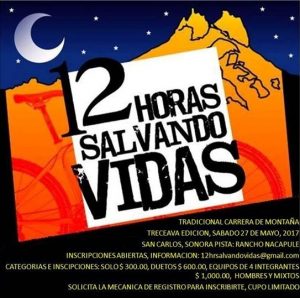 May 26 – 27. 12 Horas Salvando Vidas mountain bike race.
This year marks the 14th annual 12 Horas Salvando Vidas mountain bike race.
Start location this year will again be at Rancho Nacapule, west of the airstrip in San Carlos.
The camping area will open Saturday morning for setup of team areas.
Race begins at 5pm sharp Saturday, May 26 with a LeMans style running start. Don't miss it!
Conclusion of the race is 5am Sunday, May 27. 12 hours of MTB racing, teams/individuals with the most laps win!
The tracks have been used since 2005 are were designed and built by Manuel Espriú.
Come out and participate. Race to win, participate with your friends, or ride with a personal goal of simply completing 12 hours straight!
Spectators are encouraged to come out and watch the event and cheer on the riders. If you have never been to this race it is a sight to be seen, especially at night, all the riders outfitted with headlamps circling the 10km off-road course! Laps times will be approx 20 minutes each for the top riders, so there will be plenty of action in the camping area as riders pass through throughout the night.
Categories and Costs (MXN Pesos):
Solo – $300
2 person – $600
4 person – $1000
4 person mixed – $1000
For more information, visit the event facebook page or email 12hrsalvandovidas@gmail.com.
12 Horas Salvando Vidas map of how to get to start of event: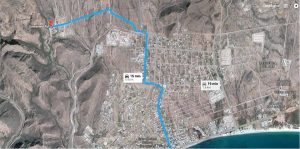 12 Horas Salvando Vidas raises funds for local charities like George Papanicolaou, Acéptame Como Soy, Cruz Roja.