Festival for Dia de la Marina Guaymas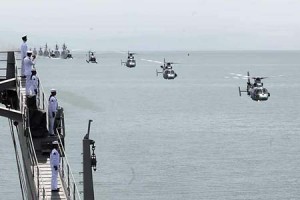 June 1 is Dia de la Marina (Mexican Navy Day). Mexican Navy Day is celebrated in seaports, including Guaymas, where reenactments of a naval battle take place.
… from 2019 …
There will be the traditional torchlight parade starting at 7:00pm on Serdán Avenue. The night will be lit by the glow of hundreds of torches as the parade passes down Serdan to the Three President's Plaza. The torch parade commemorates the historical custom, which began prior to the town having a lighthouse, of the fishermen's wives going to the shore at night with lit torches to guide their husbands safely home.
On June 1, Mexico will honor those who make their living on the sea, an important celebration in our seaport. In Guaymas, the Mayor, with authorities from the three levels of Government will lead a solemn ceremony, read the President's speech and place a wreath in the Bay in memory of sailors, both civilian and military, whose lives have been lost in the performance of their duties. You can watch the ceremony at 9:00am by the Fisherman's statute by the Malecon in Guaymas.