Emergency Numbers for San Carlos, Sonora Mexico. For emergencies, call 9-1-1. To contact police, fire department, Red Cross and Civil Protection, you can now dial 911.
Rescate San Carlos
In San Carlos, call Rescate for medical emergencies at (622) 226 0911.

Red Cross (Cruz Roja)
Telephone: (622) 222-5555 & 222-2108
Address: Carretera Internacional Km. 1980
Facebook: cruzrojaguaymas
Firefighters (Bomberos)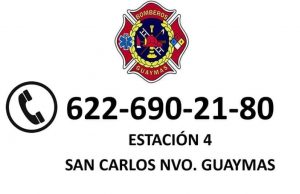 San Carlos' new Fire Station Number 4 (as of 2021): 622-690-2180 (24 hours). Bomberos (fire) Guaymas 622-221-3231.
In Guaymas, call: (622) 222 00 10 & 222 74 44
Calle 14 y Ave. 10 Colonia Centro Guaymas, Sonora
Policía Municipal
Telephone: 622-224-0105 (norte) and 622-222-7444 (centro)
Address: Calle 11 y Avenida 9 Guaymas, Sonora
Green Angels (Angeles Verdes)
Orientation, assistance and tourist help on highways
Telephone: 078
For more information on the Green Angels.
Comisario San Carlos
Telephone: 622-226-1400
Comisario, Enrique Gamez 622-130-7338
Address: Paseo de las Ostras 109 Esq. Ostión y Calamar, San Carlos
COVID help
Sentinel Unit COVID-19 "Guaymas Norte", 622-221-0108
COVID-19 direct line for Secretary of Health, Sonora 622-216-2759. Call Monday to Sunday from 8:00am to 8:00pm if you suspect you have COVID-19 and a doctor will give you advice and care if needed. If you are over 50, pregnant or belong to a vulnerable group and you tested positive for COVID-19, call 662-216-2759 and an oximeter and medications will be delivered to your home free of charge.
CIMA Hospital 662-259-0900
IMSS 622-222-5237
IMSS toll-free number for COVID-19 issues 800-222-2668
The Mexican Secretary of Health hotline 800-0044-800
US Consulate General in Hermosillo 662-690-3262
In San Carlos and Guaymas, where can you get COVID-19 tested?
Dr. Glenn Lippman, President of Rescate, told me that Rescate uses Laboratorio Ramos in Guaymas for Rescate employees (across from Burger King / Ley Mall in Guaymas). This lab can do PCR, rapid antigen and antibody tests. When I asked if they can do the PCR test in less than 72 hours, they replied that they can provide results in 24 – 48 hours. Antigen test results are given the same day and antibody results within a day. The costs are: PCR test, 3,500 pesos; Antigen test, 1,500 pesos and Antibody test, 1,800 pesos.
San Carlos Medical Clinic, Dr. Andrew Yakushevich. In San Carlos across the street from Ley Express supermarket. Antigen test, 1,450 pesos, results within 1 hour; Antibody test, 1,250 pesos, results within 1 hour. Official report provided. No appointment necessary. Hours: Monday – Thursday: 9am – 3pm. Friday: 9am – noon. 622-226-2223.
Laboratorio Acuña in Plaza las Palmas, San Carlos. Antígen test, 1,500 pesos, results same day; Antibody test, 1,300 pesos, results same day. You don't need an appointment. 622-113-5225.
Diazlab Clinica (across from the Ley Mall in Guaymas) says that they can also provide PCR tests in less than 72 hours (2500 pesos). For appointment, call 622-132-3247. They come to your car (enter the strip mall parking lot just past AutoZone).