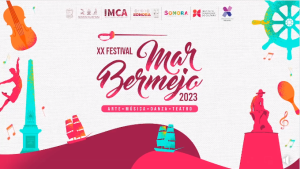 From July 13 – 16, 2023 as part of the Festival Mar Bermejo, there will be daily special events such as dance, theater, cinema and music at various locations in Guaymas (Guaymas Auditorium, Tourist Malecón, Casa de la Cultura, Public Library, Conservatory of Music, Plaza de los Tres Presidents, among others).
The Festival Mar Bermejo commemorates the anniversary of the Battle of Guaymas which occurred on July 13, 1854. In 1854, a boat load of French and other European pirates, led by Count Rousset de Boulbon, were vanquished by General Jose Yanez, defender of the Port of Guaymas. Since then, the city of Guaymas celebrates the anniversary each July 13.
2023 highlights on the Guaymas Malecon will be: Fernando Delgadillo, Caloncho, Ximena Sariñana, Mariachi of the Secretary of the Navy-Army of Mexico, Youth Philharmonic Orchestra Fray Ivo Toneck, Yembeé Jazz, Nunca Jamás and the stellar presence of Ricardo Montaner.
The celebration of the Festival Mar Bermejo, is an important cultural and artistic event for Guaymas.
Follow the event on Facebook.
Festival Mar Bermejo 2023 Program:
Friday, July 13, Malecón Turístico:
7:30pm – Fernando Delgadillo
9pm – opening ceremonies
9:30pm Caloncho
Saturday, July 14, Malecón Turístico:
7:00pm – Nunca Jamás
9:30 pm – Ximena Sariñana
Sunday, July 15, Malecón Turístico:
7:00pm – Fray Ivo Toneck Philharmonic Orchestra
9:30pm – Mariachi de la Secretaría de Marina
Monday, July 16, Malecón Turístico:
7:00pm – Yembe Jazz
9:30pm – Ricardo Montaner
1 Municipal Civic Auditorium
2 Municipal Library
4 Malecon Tourism
9 Square Kiosk July 13