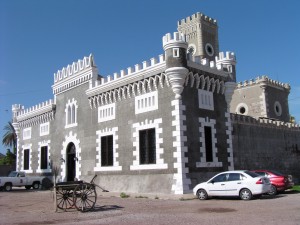 The old City Jail is one of Guaymas' most important landmarks.
It was built from 1892 to 1895 on a lot known as Plaza de Los Carros (Place for Carriages).
In 1985 the building was declared a National Historic Monument by the National Institute of Art and History.
The building served as the city's only prison until 1997, when all prisoners were transferred to the newly built Municipal Jail in Guaymas Norte.
Guided tours of the building are offered Monday through Friday from 8:00 a.m. to 2:00 p.m., and the tower has been converted into a gallery that displays art exhibitions all year round.
Guaymas' Department of Civic Action and Culture is working on turning the building into a history museum.
Location: Calle 15 and Avenida 8.