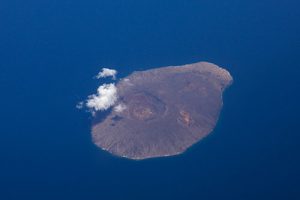 This video features Isla Tortuga which is located 52 nautical miles from San Carlos in the Gulf of California. Tortuga is an early Pleistocene volcano with a beautiful crater and caldera at the center of the island. Just watch out for the endemic rattle snake if you should go for a hike.
Watch the video and learn more about the island.
Fishing at Isla Tortuga: If you're up for a long boat ride or an overnighter at Santa Rosalia, Baja, you can find fishing favorites like dorado, grouper, yellowtail and sailfish at the island.
Tortuga Island is also a good spot to dive, with all the favorite Sea of Cortez underwater life waiting, like parrot fish, moray eel, angelfish … you may even spot a whitetip or hammerhead shark.
Where is Isla Tortuga located?