Next Jump Up Beach Party:
The kids are practicing and hope to perform January 2017. Stay tuned for details.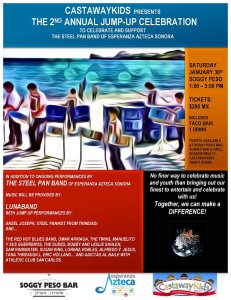 Information from the last Jump Up Beach Party:
On Saturday January 30, 2016 from 1:00pm to 5:00pm, the Soggy Peso Bar and Castaway Kids will host a do-not-miss benefit event for the kids of the Steel Pan Band of Esperanza Azteca Sonora.
After several solid weeks of special training with Trinidad pannist Ansel Joseph and his wife Char, the kids will be excited to perform for you throughout the afternoon. In addition, many of your favorite local musicians and our local dance group will take to the stage and entertain you during a 4-hour medley performance.
Tickets for this musical celebration are 200 pesos per person. The fee includes an authentic Mexican Taco bar of braised pulled beef, pork, and chicken, with all the garnishes and beans (3 tacos per person), as well as 1 drink ticket for a beer, margarita or any non-alcoholic beverage (other drinks and the regular Soggy Peso menu will be available for purchase). Also included is round-trip bus transportation to and from the beach!
You can buy your ticket at the Soggy Peso, Sunset Bar & Grill, Seaside Realty, or the Castaway Kids Thrift Store during their regular hours of operation. The 1st bus to the Soggy Peso will depart from the parking lot of the Residents and Visitors Attention Office (Plaza Arrecifes, behind the Pemex) at 12:30pm. There will be a departure from that same location at 1:30pm, 2:30pm and 3:30pm to the Soggy Peso and returning back to town. The final departure from the beach to town will be at 5:15pm.
Come celebrate and support these talented musicians. There will be lots of live music, steel pans, a gorgeous beach, A GOOD CAUSE, great tacos, the best margaritas and coldest beers, safe transportation, a great vibe, with a sunset ending to a perfect day … it doesn't get any better than this in San Carlos!