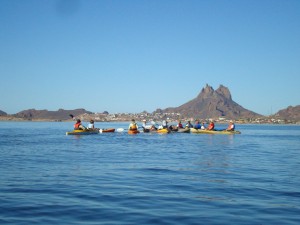 Kayaking is very popular in San Carlos.  There are many beautiful areas to explore. It is usually best to go early before the winds pick up in the afternoons.
Two of the best spots to kayak are at the estuary by Pilar Condos and the arches and caves by the Marinaterra Beach Club.
You can rent kayaks from the following:
Sonoran Sports (be prepared to have to put it in a car and take it to your destination Tel:  226-0920)
Marinaterra Beach Club
Ocean Sports (their kayaks are located at the San Carlos Plaza hotel)
San Carlos Aquatic Adventures. Their kayaks are located at Pillar Condos, by the estuary.  Cel:  622-855-5926.
Paradiso
El Mar Diving.
Guided tours are also available.