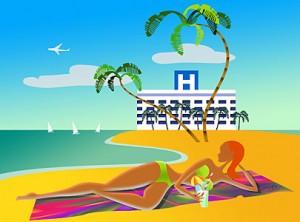 If you're looking for a wellness vacation, look into medical tourism Mexico.
Medical tourism is the growing phenomenon of traveling overseas for health care. Mexico has more to offer than sandy beaches, great food and a lively culture. It can also be the perfect place to get inexpensive medical and dental care.
For years I lived with broken back teeth because I didn't want to pay the $2,400 it would cost to have them fixed. I had dental insurance, but it only covered half the cost of crowns — leaving me with a co-pay that I just couldn't swallow. When I moved to Mexico, I learned that dental care costs far less here. Many dentists in Mexico offer professional, caring and affordable dental care in clean, modern offices. The total cost for all three teeth was $750 — less than one-third the cost of having them done back home in Canada.
I had learned what many before me already knew — medical tourism in Mexico pays.
What is Medical Tourism Mexico?
Medical Tourism is the growing phenomenon of people traveling abroad for affordable healthcare.
It is estimated that more than 900,000 Americans will travel outside the US for medical care, according to the Patients Beyond Borders statistics on their website.
They travel for procedures such as dental work, heart surgery, orthopaedics, cosmetic surgery, neurosurgery, fertility treatments, LASIK eye repair, and cancer treatments. Mexico is one of the primary destinations for patients from the US with shorter travel times and the potential to vacation before and after treatment, adding to its allure.
It's not just individuals considering overseas care. Insurers and employers are setting up cross-border healthcare plans to cover a wide range of elective medical procedures. For example, Blue Shield and Health Net of California offer its members care in Mexico. The outsourcing of healthcare is turning into a big business.
In fact, this week in Las Vegas, the Medical Tourism Association (MTA) is hosting its 6th Annual World Medical Tourism and Global Healthcare Congress. According to the MTA website, in 2013 the Mexican medical tourism industry is forecasted to have a value of $2.8 million. The ratio of specialists to general practitioners in Mexico is 63.4% − above average for OECD countries (57.7%). Mexico's goal is to become one of the top health tourism destinations in the world by 2018.
Medical tourists fall into several categories: 1) those that want elective surgery such as cosmetic or wellness treatments that are not covered by insurance plans; 2) those that are underinsured — high deductibles have many people who are in need of medical care running for the border; and 3) those that are uninsured.
According to the US Census Bureau, nearly 48 million Americans, or 15 percent of the population under the age of 65, were without health insurance in 2012, their latest data available. Since then, due to a sluggish economy and to changes introduced by the Affordable Care Act, millions more have lost or will lose their health insurance coverage.
Some medical tourists go abroad for immediate availability of procedures as wait-lists and limited physician choices at home force them to seek out alternative treatment centers.
However, for most, the primary motivation is the significantly lower cost for healthcare found outside the US or Canada. The cost of medical and dental procedures in Mexico is, on average, about 40 to 65% of US costs.
While these savings are alluring, they should only be considered in situations where quality of care is not sacrificed. Along with its many benefits, traveling for your medical treatments can create some additional risks. There is no regulatory oversight of the medical tourism industry, putting the onus on the consumer to determine whether the foreign facility and medical team are qualified. And keep in mind that in many countries outside the US and Canada, you may have very little legal recourse if something goes wrong. With sound planning and research, many of these risks can be minimized, if not eliminated.
At its June 2008 Annual Meeting, the American Medical Association (AMA) discussed the issues facing Americans seeking medical care outside the US, and developed the AMA Guidelines on Medical Tourism. The guidelines are in favor of patient choice, and seek to inform and advise individuals, employers, insurers, and those coordinating international healthcare about how to ensure the quality and safety of patient care internationally.
One recommendation is that people should only be referred for health care to institutions that have been accredited by recognized international accrediting bodies, such as the Joint Commission International (JCI), the International Society for Quality in Health Care, or the Consolidated Services Group (CGS), the Mexican accreditation body.
The JCI is an arm of the US hospital-accrediting body, The Joint Commission (TJC). The Centre for Disease Control and Prevention also recommends using JCI accredited hospitals, stating on its website that to "ensure a higher quality of care abroad, Joint Commission International attempts to continuously improve the safety and quality of care in the international community through the provision of education and consultation services and international accreditation."
The JCI sets over 350 standards of excellence for international hospitals to meet that ensure the quality and safety of patient care. These standards include patient satisfaction and quality outcomes, medical training of doctors and medical staff, nurse to patient ratios, overall hospital cleanliness, and innovation in medical technology and equipment. JCI has accredited more than 500 facilities around the world, including ten in Mexico. Mexico also has 122 certified hospitals by CSG, an accreditation system, similar to JCI.
The Mexican CSG Accreditation is given by the General Health Council of Mexico, an office of the Mexican Ministry of Health. The General Health Council of Mexico covers all public and private health care organizations in the country. It was decided, in 1999, to bring the standards for health care organizations under the General Health Council of Mexico in line with international standards such as the JCI accreditation. A committee with representatives from public and private health care organizations and members of the JCI Accreditation program put together the National Certification Commission to design a model of health care accreditation in Mexico.
Medical Tourism Mexico
Hospital CIMA in Hermosillo, Sonora is an acute-care hospital that was developed by CIMA Mexico and opened in May, 1996. It is JCI accredited, and also received the highest score in the country in 2010 by the General Health Council of Mexico.
CIMA has partnered with a major US insurance company to offer services to US patients. Blue Cross and Blue Shield members of Companion Global Healthcare Inc. can now seek treatment at CIMA Hermosillo.
Under the agreement, members are covered for procedures such as cardiology, gynecology and orthopaedic surgeries. These are typically very expensive procedures in the US, whether you have insurance or you don't. Surgical procedures run about 60 percent less than the average US procedure. An example of the cost savings – a hip replacement in the US would cost $100,000 on average, while the average cost at CIMA is $14,000.
Many of CIMA's doctors are trained in the US and speak English. Bilingual staff members accompany patients through the process. You don't need to know Spanish to come to CIMA, which is good news for US or Canadian patients seeking world-class care at a fraction of the cost.
Doctors Robert Page and Curtis Page, in their book Mexico: Health and Safety Travel Guide state that "CIMA is a highly respected institution which provides updated educational and technical information to physicians and staff. CIMA has scores of highly qualified medical personnel and top-notch facilities that include a state-of-the-art cardiac-care unit and fully equipped emergency ward and intensive care unit. Travelers in need of medical attention will find themselves in excellent hands at CIMA."
Since moving to Mexico, I have begun using Dr. Roberto Salazar López at CIMA as my family doctor. I am very impressed with both CIMA and Dr. Salazar — from the marble floors throughout the facility to Dr. Salazar's clean and modern office with its own ultrasound scanner and x-ray viewer. The doctor stores all patient information on his laptop and he can access and input my data at the touch of a button. The level of personal care that I receive from him far exceeds anything I've previously experienced. On my first visit, Dr. Salazar gave me his email address. I have since emailed him several times and each time received a response the same day. And I was never charged for these prompt electronic consultations. He accepted me as a client right away and when I need to see him, I can usually schedule an appointment for the next day.
The San Jose Hospital in Hermosillo, built in 2007 in the Pitic area of this city, is another such accredited hospital.
After living in pain for many years, Norene Sullivan, full-time San Carlos resident and realtor at Coldwell Banker, decided that she had had enough. She needed a hip replacement surgery on her right hip, and she wasn't going to wait any longer. After researching her options, she chose to have the procedure done at San Jose hospital this past July. After a 3 hour surgery and 3 months of rest post-operation, Norene was dancing the night away in a vampire costume last week at Tortuga's Halloween party.
She was extremely satisfied with the experience and with the costs, which totalled $11,200 US.  This included the surgery, 3-night hospital stay, a private room the size of a hotel room (it even had 2 large screen TVs — one in her room and one in the adjoining "family" room). It also included post-op medications, a walker, handicap bathroom seats, and ambulance ride back to San Carlos. Norene was able to custom-design her surgery. She chose her prosthetics, and at her request, watched the procedure as well.
Interestingly, Noreen had had a hip replacement surgery on her left hip 10 years ago in the US.  And the costs – after her deductible and her co-pay, was higher than what she paid this summer.  And that doesn't account for her insurance premiums, or anything post-op. To quote Noreen, the whole experience in Mexico was "far superior" to that of the US.
In addition to CIMA and San Jose, there are many other Mexican clinics and hospitals that are clean, modern and feature state-of-the-art diagnostic equipment and will provide exceptional care at reduced prices. Many facilities are staffed with English-speaking physicians and medical personnel. Right here in San Carlos, MDS (Medical Diagnostic Services) is an excellent medical center that will save you the time, hassle and expense of driving to Hermosillo.
As I discovered, Mexico is also a hotspot for tourists in search of low-cost dental care. High-quality dentists can be found in all of Mexico's major tourist resorts and large cities, including San Carlos, Los Cabos, Tijuana and Cancun. Any treatments available in the U.S. and Canada are also available in Mexico, including caps, dental implants and teeth whitening. Dr. Maricela Arizmendi is able to provide all of these dental services at her conveniently located San Carlos office.
A medical tourism facilitator can help you find the doctor, dentist, hospital or clinic that is right for you. Using a facilitator like BridgeHealth, Healthbase or Companion Global Healthcare may also help alleviate some of the risks associated with medical tourism as these facilitators mainly work with hospitals that are accredited by the Joint Commission International. According to Patients Beyond Borders, these agencies specialize in international medical travel and "work with hospitals, clinics, physicians, surgeons, airlines, hotels and recovery retreats abroad to offer patients the best quality at the most affordable rates."
One of the biggest advantages to choosing Mexico for your medical care is its proximity to the United States and Canada. In Mexico, you can get reasonably priced medical treatments close to home. And as an added bonus, while abroad, patients also frequently take advantage of the opportunity to take an inexpensive vacation. Recuperating on a sandy beach under a shady palapa while taking in the beautiful scenery may be just what the doctor ordered.