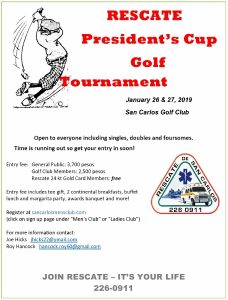 The Rescate Board of Directors has regretfully cancelled the 2020 President's Cup Golf Tournament. A number of unforeseen factors combined to result in insufficient community interest to make the tournament viable. All paid participants and sponsors will be individually contacted to arrange for reimbursement. Rescate will also be contacting 24K gold card members to address any issues around their membership. Rescate apologizes for any inconvenience and thanks everyone involved for their interest and support of Rescate. Rescate looks forward to your continued support at other fundraisers such as the Saturday Marketplace, the upcoming Grand Bazaar (February 8) and the Melodrama in March.
~~
The President's Cup golf tournament is one of Rescate's major annual fundraisers. It's also San Carlos's largest golf tournament.
This year's tournament promises to be the most fun yet. We have lots of games and activities planned, so be sure to join in the fun. Registration will only be open from December 30 to January 22, so get your team together (couples and singles also welcome of course) and register soon.
The registration fee of 3,000 pesos includes the tournament entry fee, green fees, registration party on Friday afternoon, two breakfasts, Saturday lunch and the awards banquet Sunday night at the Yacht Club. The food is going to be extra good this year. Registration is FREE for 24K Rescate Gold Card holders.
Registration forms can be picked up at the Rescate office or thrift store and the pro shop at the country club. Completed forms and payment (cash or check/cheque) may be submitted to the Rescate administrator, Veronica, Monday to Friday, 9:00am to 5:00pm. Remember to register soon, as late registrations cannot be accepted.
For more details about the tournament, visit the Rescate website at rescatesc.com.
Rescate President's Cup Golf Tournament Schedule of Events
Friday, January 24:
3:00pm – 6:00pm: registration party with top golf skills competition, cash bar and appetizers at 4:00pm
Saturday, January 25:
8:00am: Continental Breakfast
8:45am: team captain's  meeting
9:00am: First Round Shotgun Start
Following Play – Lunch at Country Club
Sunday, January 26:
8:00am: Continental Breakfast
8:45am: team captain's  meeting
9:00am: Second Round Shotgun Start
5:00pm: Awards Banquet at San Carlos Yacht Club. Cocktails start at 5:00pm and dinner is at 6:30pm.