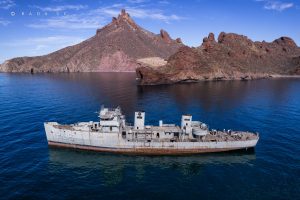 There's a new wreck dive in San Carlos.
The Ex-Buque Santos (PO-106) was sunk on March 3, 2022 to create an artificial reef perfect for snorkeling and diving.
The ship was originally a minesweeper for the US in World War II. After it was decommissioned, it was given to the Mexican Navy to use. Now that they are finished with it, it was decided that the ship would make a wonderful artificial reef just a short boat ride from Marina San Carlos around the corner from Punta Doble. It will be sunk west of the dive site Aquilas/Eagles and south of the dive site Punta Cautín.
El Mar Diving Center here in San Carlos has been a major participant since the beginning of this project, cooperating with the Secretary of the Navy and the Government of the State of Sonora. They have helped to facilitate many of the logistics of this project, from helping to find the right place to sink it to making sure that the ship will be a safe wreck to dive on.
With a total length of over 200 feet, the top of the ship should be at about 20 feet below the surface, good for snorkelers to explore her topside. And, with a depth of less than 100 feet, it will be well within recreational dive limits. It is important to note that it will be approximately 3 weeks after the sinking before it will be ready to dive, so don't make plans until the ready-to-dive date is announced. Rules for boating and diving/snorkeling in and around the wreck will be forthcoming from the state government.
ARM Santos Degollado (G 07) History
Auk Class Minesweeper:
Propulsion two 1,988shp Baldwin VO8 diesel electric drive engines, Westinghouse single reduction gear, two shafts.
The first Gladiator was laid down 7 January 1943 as HMS Blaze (BAM 6) by the General Engineering and Dry Dock Co., Alameda, CA
Renamed and reclassified Gladiator (AM-319) in January 1943
Launched 1 May 1943
Commissioned USS Gladiator (AM-319), 23 February 1944
Naval Vessel Register of 1 January 1949 lists plan for decommissioning and placing in reserve as March 1946
Decommissioned 4 October 1946 at San Diego, CA and laid up in the Pacific Reserve Fleet
Recommissioned 29 February 1952 at Long Beach, CA
Reclassified as a Fleet Minesweeper (Steel Hull), MSF-319, 7 February 1955
Decommissioned 15 March 1955 at Long Beach, CA and laid up in the Pacific Reserve Fleet, Long Beach Group
Struck from the Naval Register 1 July 1972
Sold to Mexico and renamed ARM Santos Degollado (G 07), 19 September 1972
Reclassified P-106
Fate unknown……
Not any more…As of March 3rd, 2022, she is sitting in 65ft of water and getting a 2nd life in San Carlos, Sonora, Mexico.
Specifications:
Displacement 890 t.
Length 221′ 2″
Beam 32′ 2″
Draft 10′ 9″
Speed 18.1 kts.
Complement 105
Armament: One 3″/50 dual purpose gun mount, two twin 40mm gun mounts, two 20mm gun mounts, two depth charge tracks, and five depth charge projectors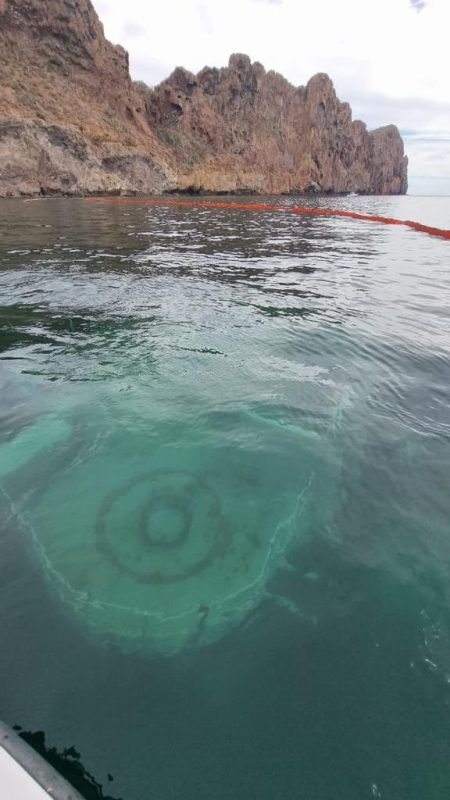 The sinking of the ship on March 3, 2022