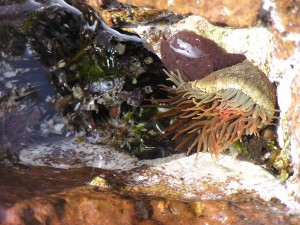 An excellent San Carlos pass time, especially with younger member of the family, is exploring tide pools. One of my favorite locations is by the Marina Terra Beach Club.The tide pools are created when the tide goes out, leaving seawater in isolated depressions in the rocks. Numerous colorful and interesting organisms call the tide pools home, such as anemones, barnacles, crabs, starfish and sea urchins. These amazing organisms must be able to adapt and survive in both wet and dry conditions.
I find that the best way to enjoy tide pools is to crouch down close, peering into what at first glance looks like a lifeless pool of water, and soon your eyes will see small movements as you discover the world within the water.
If you do go exploring, remember that this is a fragile environment. As with any natural area, be careful where you tread and try not to disturb the remarkable creatures that you find.