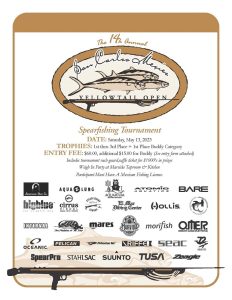 The 14th Annual San Carlos Yellowtail Spearfishing Tournament will take place on Saturday, May 13, 2023.
Click here for the entry form. Email registration to acwaman@aol.com and Venmo or Paypal payment to acwaman@aol.com (use "send to friend or family").
Entry fee is $60 USD plus $15 USD for Buddy. Registration includes tournament rash guard, a raffle ticket for $1000's in prizes, trophies for first through third place and 1st place buddy category.
The weigh-in party will be at Marvida Taproom & Kitchen.
Participants must have a Mexican fishing license and a diver down float / flag. No scuba allowed. Breath-hold diving only. All participants must dive in a buddy team – no solo diving.
Divers can start at dawn and must be back at the marina by 4:00pm. Biggest yellowtail wins.