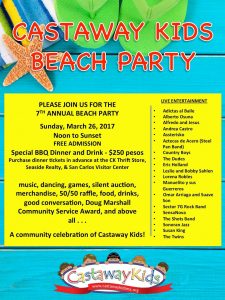 On Sunday, March 10, Castaway Kids is hosting their Annual Beach Party at La Palapa Griega beach from noon to sunset.
The following information is from 2018 … 2019 info coming soon …
No cover charge. Tickets are available for a special barbecue meal (which includes a beverage). Only 250 pesos. Available now at the Castaway Kids Thrift Shop, Seaside Realty, and the Resident and Visitors Attention Center.
Tons of live entertainment all day long from our favorite performers (see poster on left), as well as dancing, games, silent auction, merchandise, 50/50 raffle, and much, much more.
Most of the musicians/dancers in town will be there to perform (see the list in the poster to the right). Look forward to Adictas al Baile, Alberto Osuna, Alfredo and Jesus, Andrea Castro, Assterisko, Aztecas de Acero (Steel Pan Band), Country Boys, The Dudes, Eric Holland, Leslie and Bobby Sahlen, Lorena Robles. Manuelito y sis Guerreros, Omar Arriaga and Suave Son, Sector 7G, SensaNova, The Shots Band, Sonoran Jazz, Susan King and The Twins to entertain us.
Don't miss our community celebration of Castaway Kids!
Doug Marshall Community Service Award
The Castaway Kids Doug Marshall Community Service Award selection committee is looking for nominations. The nominees should be persons that have shown exceptional contributions to the community over the years. It's not too late to pick up a form at the Thrift Shop.
Castaway Kids Beach Party photos