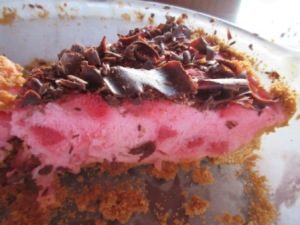 I wanted something cold, sweet, easy, and fairly healthy. This recipe has a million combinations. First, I thought it would be a chocolate yogurt pie and then found out that Mexico does not have chocolate-flavored yogurt. Then I starting thinking about a Pina Colada cream pie but couldn't find either pineapple-flavored yogurt or even cans of chopped pineapple so I could flavor plain yogurt. So I ended up with this one and used coconut oil to enhance the coconut flavor of the cookies. But really, you could make this recipe with whatever flavor of cookie or yogurt you want (and that you can find). You could even layer a couple of different flavors; freeze the first layer for at least an hour and then pour the second flavor over the first layer and freeze. Get creative and have this send shivers down your throat on a hot day.
2 sleeves of cookies (about 6 oz) from the Gamesa Hawaianas 630g box
4 TBSP coconut oil
1 carton (1kg) LaLa strawberry yogurt
4-6 sliced fresh or frozen strawberries
Shaved chocolate
In a food processor, pulse the cookies until they are coarsely ground. Add coconut oil and pulse again until finely ground and combined. Coat a pie pan lightly with coconut oil (or cooking spray if you don't want the coconut flavor). Pour cookie crumb mixture into pie pan and press into bottom and sides. Bake at 350 degrees for about 10 minutes. Cool crust completely.
Pour carton of strawberry yogurt over cooled crust and top with sliced frozen strawberries. Place in freezer for at least 3 hours. Sprinkle shaved chocolate on top. Remove from freezer and allow to sit out for 5-10 minutes to make cutting into slices easier. Enjoy!
by Shelly Johnson