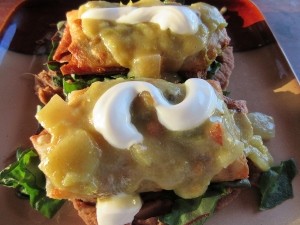 This is Part Dos of my Roasting Peppers and Chiles post; what you can do with those green chiles after you've roasted them. I always roast a lot of green chiles at one time, stem them, sometimes de-seed them and freeze them for quick use later. If I haven't de-seeded them before freezing I ALWAYS do this before putting them into a recipe (unless you are looking to burn your tongue, throat, lips, stomach off).
In almost every Mexican restaurant in Colorado there are Chile Rellenos on the menu. These are not the cheese stuffed pepper, dipped in egg batter and fried version. These have a Chinese influence (I guess) as they are chopped green chiles and grated cheese rolled inside an eggroll wrapper and fried. Now how do you suppose that mix in cultures came about? Especially in Colorado???? I can't answer that but I can tell you these are the best chile rellenos you will ever have. Once they are fried Coloradoans then smother them in green chile sauce. Really, there is nothing better and I have craved these since I was just a tot. Our first stop when visiting Colorado is ALWAYS to a Mexican restaurant where I can gobble these up and get my fill (until the next day).
Eggroll wrappers are not easy to find here. They used to be carried by the Santa Rosa market in Guaymas but, alas, no mas. So let's put our local spin on these to satisfy my craving by using flour
tortillas.
1 package flour tortillas
1 1/2 cups chopped roasted green chiles
2+ cups grated cheddar cheese or any gratable Mexican cheese (I say 'plus' because you want a mixture that looks something like this…..)
Canola oil for frying
You want the tortillas to be really pliable so buy the freshest ones you can and then heat a few at a time in the microwave for about 15 seconds. Lay 1 tortilla on a flat surface and mound the chile/cheese mixture in the center. Working quickly, wrap the tortilla like an eggroll; bottom flap up first, sides in next, then roll onto top flap.

Place roll (flap side down) in a fry pan with about 1/4″ of hot oil. Fry until golden brown on the bottom and turn over with a spatula or tongs and fry on the other side until golden brown. Drain on paper towels on a plate.
Serve on a bed of refried beans and lettuce. Smother with green chile sauce or salsa if you want, maybe some crema or guacamole. Hi Ho Silver, Away!
by Shelly Johnson