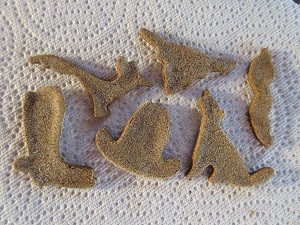 If made with buckwheat flour, these are wheat allergen-free for your special Fido (sorry, I believe you'd have to bring this down from the USA). Buckwheat flour is denser so you will use less of it. I had pumpkin puree left over from another recipe so I used this instead of the sweet potato puree, but I know that pumpkin puree can be difficult to find here at times.
2/3 c sweet potato puree (or pumpkin if you have some left over from a can)
1/4 c peanut butter
2 large eggs
2 TBSP olive oil
1 3/4 c buckwheat flour (or 2 1/2 c whole wheat flour)
To make sweet potato puree, wash and poke potato several times with a fork, place in microwave and cook until soft, 3-5 minutes depending on the size of potato. When cool, scoop out insides and mash with a fork.
Beat together potato (pumpkin) puree, peanut butter, olive oil and eggs until well combined. Gradually add the flour until incorporated and dough is no longer sticky.
Working on a lightly floured surface, knead the dough 3-4 times until it becomes a smooth texture. Roll the dough to 1/4″ thickness and cut out desired shape. Place onto baking sheet lined with a silpat or parchment paper. Bake in 350 degree oven for 20-25 minutes. Store in an airtight container in the refrigerator.
by Shelly Johnson