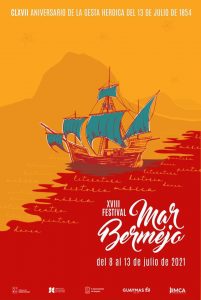 From July 8 to 13, 2021 as part of the Festival Mar Bermejo, there will be daily special events such as dance, theater, cinema and music at various locations in Guaymas (Guaymas Auditorium, Tourist Malecón, Casa de la Cultura.
The Festival Mar Bermejo commemorates the anniversary of the Battle of Guaymas which occurred on July 13, 1854. In 1854, a boat load of French and other European pirates, led by Count Rousset de Boulbon, were vanquished by General Jose Yanez, defender of the Port of Guaymas. Since then, the city of Guaymas celebrates the anniversary each July 13.
Del 8 al 13 de julio se llevará a cabo el XVIII Festival del Mar Bermejo
Guaymas, Sonora 29 de junio del 2021.- En apego a las medidas protocolarias, el
H. Ayuntamiento de Guaymas 2018 – 2021
, a través del Instituto Municipal de Cultura y Arte (IMCA), dirigido por Brenda Arlet Barajas anunció esta mañana en conferencia de prensa, la edición número XVIII del Festival del Mar Bermejo, que se llevará a cabo del 8 al 13 de Julio dentro del marco del aniversario de la batalla del 13 de Julio como lo indica la historia del Puerto.
De acuerdo con la presidenta municipal Sara Valle Dessens, quien encabezó esta rueda de prensa, el Festival del Mar Bermejo es uno de los eventos culturales más importantes del verano, sin embargo por la situación actual que se vive por la pandemia del COVID-19 se está buscando la posibilidad de hacer el festival semi-presencial, es decir como se ha hecho con eventos culturales pasados como el Festival de la Calaca y el Carnaval, hacer llegar el arte a las familias guaymenses a través de las redes sociales, con la transmisión en vivo de conciertos, encuentros de literatura e historia, además de algunas galerías de artes plásticas y pintura a las que se puede asistir con un estricto control de aforo y protocolos de salud.
Festival Mar Bermejo 2021 Program:
Some event will be virtual, and some live. Some of live music highlights are:
* Thursday, July 8 at 7:30pm at Casa de la Cultura in Guaymas: Daniel Moreno and Ana Luisa Diaz Pineda.
* Saturday, July 10 at 7:30pm on the Guaymas Malecon: classical guitar concert with Erick Cruz.
* Sunday, July 11 at 6:30pm on the Guaymas Malecon: folkloric dance and at 7:00pm live music by the Orquestra Cultural.
* Tuesday, July 13 at 8:00pm on the Guaymas Malecon: concert by the State Band.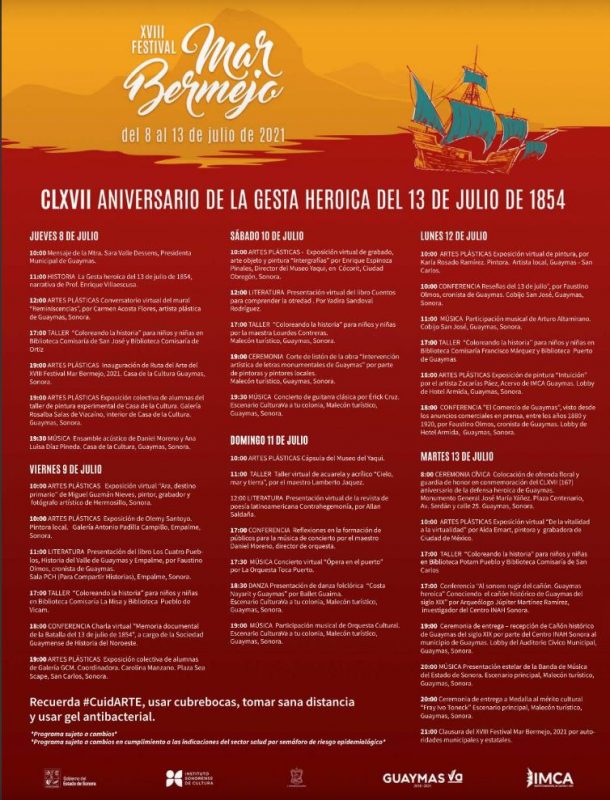 Click here for the complete 2021 program.
1 Municipal Civic Auditorium
2 Municipal Library
4 Malecon Tourism
9 Square Kiosk July 13
The celebration of the Festival Red Sea, is the most important of the Municipality of Guaymas cultural and artistic event. Since its inception the festival has been a significant increase in the number of attendees and the amount and quality of its events, which has been consolidated as one of the most important cultural festivals in the Northwest of Mexico summer.