Isn't it great that we are able to travel again? The diverse country of Mexico has a lot to offer, and through the years we have been very happy to introduce many of the great places this country has to the San Carlos Residents, their families and friends, and we will very much like to continue to do so. For the next season, we have scheduled the tours below, and we are now officially OPEN for reservations. Tours book up quickly, so please make your reservation asap.
Please take a look at our 2022/23 tours:
October 18 – 24, 2022. Oaxaca Tour. The city of Oaxaca has been in the top 5 world destinations for the most recent years — come and see why! This tour is currently full, but there's a stand-by list.
November 17 – 23, 2022. Copper Canyon Tour Fall Expedition. Often compared to the Grand Canyon, this natural wonder is more than just a canyon — ride the train with us and discover it!
January 6 – 12, 2023. NEW! Puebla and Mexico City. Two great cities combined in one tour! Art, history, crafts, you name it.
January 21 – 23, 2023. Whale Watching Express. A quick visit to witness one of the greatest migrations on earth, the East Pacific Gray Whales.
February 8 – 14, 2023. Monarch Butterflies and Three Central Cities. In 2022, the number of monarch butterflies that migrated to the Mexican forests saw a huge increase. Let's take a look at their winter home. Bonus: a visit to Taxco and Mexico City.
March 24 – 30, 2023. Copper Canyon Tour Spring Expedition. We have seen the canyon in all of the seasons. Spring and Fall are the best in our opinion — will you agree?
April 19 – 25, 2023. NEW! A week in Mexico City. The giant metropolis: sophisticated, bustling, and with something to offer for everybody. 7 days are not enough but we will definitely make a dent. Join us on this new adventure.
Visit our website for information on each tour and how to make and confirm your reservations. Our Facebook page has pictures and information of our most recent tours, 'Like' us there if you would like to receive updates from us. Or send us an email directly with your inquiries: oceancamp@me.com .
Mark and Miguel
Ocean Camp San Carlos
More details on some of the trips …
Departing November 17, 2022. Copper Canyon Fall Expedition. Did you know that Mexico's Copper Canyon is four times larger than the Grand Canyon — and deeper? (and it's only 230 miles away). Incredible sights, seven-days of natural beauty and exploration. For more information, click here. We also have a Spring Copper Canyon Expedition from March 24-30, 2023.
We start our journey in the beautiful colonial town of El Fuerte where we spend the first night. The following morning we board the El Chepe Express Train, described as one of the best railroad adventures in North America to Bahuichivo Station and begin a descent into the Urique Canyon. We spend two nights near Cerocahui and on the third day we descend into the deepest part of the canyon system (optional) and put our feet in the Urique River. The following day we take on the winding roads through the highlands to Creel where we spend the fourth and fifth nights. Creel is in the Northern part of the canyon complex. Tours of Creel and surrounding area are included, as well a scenic drive to Divisadero for a ride on the new aerial tram deep into the canyon. On the sixth day we rise early to board the Chepe Express all the way back to El Fuerte for our final night of the tour. The next morning we take a river boat tour for birding as a closing of our adventure.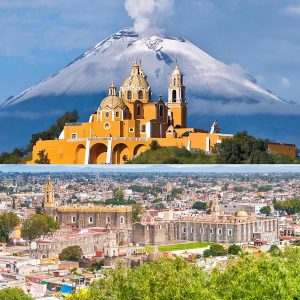 Departing January 6, 2023. Puebla and Mexico City. A new addition to our catalogue of tours! Join us in this new adventure to the "City of Angels", Puebla, a worthy World Heritage Site, famous for its Baroque architecture, its Talavera crafts and gastronomy; and get a glimpse of the sophisticated metropolis that is Mexico City, or CDMX as it is referred to by the capitalinos.
We start in the city of Puebla, the sprawling capital of the State with the same name and location where the famous Battle of 5 de Mayo took place. We take our time to visit the historic district with churches that took centuries to build, the mecca of Puebla's blue Talavera and learn about this artistic craft, and a day visit to the Pueblo Mágico of Cholula and Atlixco, all while we taste the traditional dishes such as the Mole Poblano and Chiles en Nogada. We then move to Mexico City, where we stay long enough to visit some of the most famous landmarks and sites, like the museums in the Chapultepec area, the Zocalo and Metropolitan Cathedral, and more.
This seven day tour includes round trip air Hermosillo-Mexico City, private transportation between San Carlos and Hermosillo airport, 3 nights lodging in City of Puebla, 3 nights lodging in Mexico City, private transportation in our destinations, breakfast every day at our hotels, local tours, bilingual escorts, and more. For more information, please visit our webpage here.

Or you may look at all of the tours at Ocean Camp San Carlos, here www.oceancamp.org and click on any tour listed at the top of the page.
You can also visit and like us on our Facebook page to receive updates and see pictures of our tours.
Make your reservations now by sending an email to:  oceancamp@me.com  and put the tour name in the Subject line. Give us the full name of the passenger(s) making reservations. Once you make your reservation by email, you will be given instructions on how to secure your reservation with a deposit.
We have groups forming for all of the tours already. Our groups are small and fill up quickly, make sure your name is in them!
Mark & Miguel
Ocean Camp San Carlos