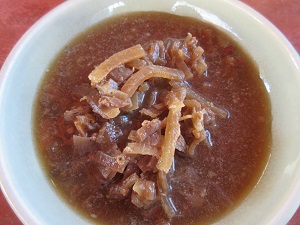 There is still time to enjoy some soup before our weather gets too hot. This is a soup that takes very little effort and the final result is super yummy! What makes it so easy is that you caramelize the onions in the crockpot prior to adding any broth. This way all the flavors of the onions develop and then when you add the broth, the broth takes on these flavors rather than diluting them.
1 large white onion
2 medium red onions
1/2 tsp thyme
1/2 tsp seasoning mix like Spike or Canadian
2 bay leaves (if you have them)
1 TBSP butter
2 TBSP oil
4 cloves minced garlic
3 cups beef broth
1/4 cup cooking sherry
Salt & pepper to taste
Peel onions and cut into quarters, then cut into slices about 1/4″ thick. Place butter, oil, onions, thyme, garlic, bay leaves, and seasoning mix into a crockpot and cook on high for 8 hours. Add beef broth, cooking sherry, and salt and pepper to taste, cook for another hour. Serve with croutons and melted swiss cheese on top.
by Shelly Johnson