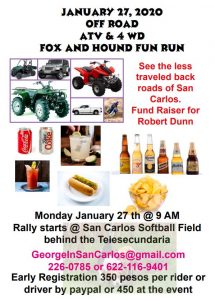 The Fox and Hound Off Road Rally takes place on Monday, January 27.
The chase will start around 9:00am from the softball field behind the telesecundaria in the Ranchitos. See the less traveled back roads of San Carlos off road with ATV and 4 wheeldrive.
The cost is 350 pesos per rider or driver (preregister by paypal) or 450 pesos at the event. This is a fundraiser for Robert Dunn. Registration includes Breakfast Burritos and Marys . . Bloody or Virgin.
Pre-register with George at GeorgeInSanCarlos@gmail.com, 226-0785 or 622-116-9401. All are welcome.