Guaymas Sonora Mexico
There are many attractions to see and fantastic restaurants to experience in the port town of Guaymas Sonora. Guaymas has several great beaches nearby, including Miramar and Bacochibampo and the soft-sand beaches of San Carlos. For accommodations, there are many Guaymas hotels, condos and homes to rent. The Guaymas marinas have 798 boat spaces and boating, fishing and diving are all available. And there is an 18-hole golf course in nearby San Carlos.
Guaymas Sonora is 117 km south of Hermosillo and only a five hour drive south of Tucson, Arizona.
A unique, colorful and fun time to travel to Guaymas Sonora, is during the annual Carnaval when you can enjoy colorful parades, fireworks and live music.
Guaymas travel guide with photos
Fisherman's Monument
Often photographed, the Fisherman's Monument at the Guaymas malecon is the most symbolic statue of the port.  The base of the statue is inscribed with the words of a sad song, "Barco de Guaymas" (Boat of Guaymas).  The words tell us that when a fisherman dies, he goes to the great beyond in the boat of Guaymas.
Three President's Plaza
The Three President's Plaza was constructed in honor of three men, Adolfo de la Huerta, Plutarco Elías Calles and Abelardo Rodríguez, who were all native of Guaymas and presidents of Mexico.
Municipal Palace
Constructed in 1899. Located downtown on Avenida Serdan between Calles 22 and 23, next to the Three President's Plaza.
Light and Water Show
This Las Vegas-style dancing fountain light show is on each night around 7:00pm.  The show is 30 minutes long and is accompanied to music.  It is located along the new Guaymas boardwalk.
Guaymas' Malecon (Waterfront Boardwalk)
This boardwalk is located behind the Three President's Plaza by the waterfront.  In the evenings you'll find families strolling on the boardwalk, and vendors selling nuts and candies.  On occasion you may see musicians too.  This is where the city puts on their annual shrimp fest and crab fest.  When the cruise ships come into Guaymas, this is where there is usually entertainment.
San Fernando Church
Constructed in 1850, this church is the oldest in Guaymas, and is built in the neoclassic style.  It is located downtown on Avenida Alfonso Iberri between Calles 24 and 25.13th of July Square With a Moorish-style bandstand, this square symbolizes the heroic battle between the people of Guaymas and the French in 1854.  During the evenings, you will find families and couples sitting on the benches, and vendors selling snacks and refreshments.  Rumor has it that the designer of the bandstand was Gustave Eiffel, the same man who designed the Eiffel Tower in Paris, France.>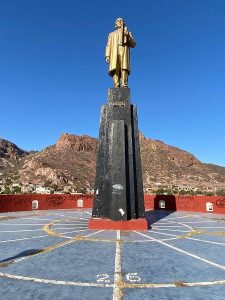 Benito Juarez Statute
Benito Juarez, the 26th president of Mexico, was a Zapotec who didn't know how to speak Spanish until he was 12.  Orphaned at 3, his amazing trajectory reached the head of his country's Supreme Court before becoming its president, serving five non-concurrent terms (1861-72).
His birthday (March 21) is celebrated as a national public and patriotic holiday, the only individual Mexican to be so honored.
He is one of Mexico's most reverred presidents, known as its Abraham Lincoln, fighting off the French invasion while Lincoln was embroiled in the Civil War.  But his greatest challenge was inward, where his Liberal party fought against the Conservatives who favored a strong role for the Catholic Church in government.
While his country was still reeling from losing much of its northern territory in the war with the United States, Juarez was exiled for three years, first to Cuba, where he worked in a cigar factory, and then to New Orleans where he lived in poverty, preparing for his return to Mexico.
He was a masterful leader, holding the country together through bloody battles inward and outward, finally reining in ecclesiastical power by nationalizing all church property, except actual places of worship. He nationalized cemeteries and placed birth registrations and marriages under civil authority, which had before been records only kept by the church. After guaranteeing religious liberty to all, he also moved the army to civilian control.
He died of a heart attack while in office, in 1872, at the age of 66.
Decades later, in the aftermath of the Mexican Revolution, presidents were constitutionally banned from holding more than one six-year term. They get but one chance to govern and thus are not always campaigning for their next term of power.
While Benito Juarez was only 4-foot-6, his golden statue rises high on a hill in the middle of Guaymas, on Calle Diez between Serdan and Garcia Lopwz. Below it is an inscription with his most famous quote:
"Entre los individuos, como entre las naciones, el respeto al derecho ajeno es la paz." Often shortened to: "Respect for the rights of others is peace."
Find this and other photos and stories of San Carlos and its surroundings in "66 Days in San Carlos" by Cathy Henkel. For $20 or 400 pesos, it's available at Castaway Kids, Vive Real Estate or Sagitario. All proceeds go to the Castaway Kids' education fund.
See more photos and videos of Guaymas Mexico.
Book your Guaymas Hotel on Booking.com