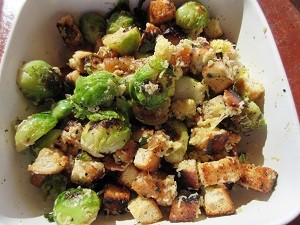 Yep, just like the recipe name says, you need to try this recipe even if you are one who claims 'I don't like brussels sprouts'. Really, the croutons, cheese, ate (or guava paste), and dressing pretty much cover up the taste of the brusslies. Brussels sprouts can be found at the Wednesday tianguis in Guaymas and the Sunday tianguis in Empalme right now. You can make homemade croutons or use store bought. Ate (or guava paste) is that thick jello-like substance you see on the specialty shelf in the grocery store (see photo). At Leys here in town it is next to the cheese area. Typically you use it by spreading it on a cracker with cream cheese (hey, that makes this entry 2 recipes in one, lucky you).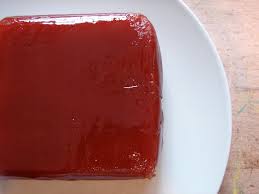 12 brussels sprouts, ends trimmed and cut in half
1 bolillo bread loaf, cut into 1/2″ cubes
6 TBSP oil
2 TBSP water
3″ piece of ate (or guava paste), cut into 1/4″ cubes
1/2 c finely grated machego cheese (feta or goat cheese would work too)
2 TBSP white wine vinegar
2 TBSP horseradish
1 TBSP dijon mustard
1 tsp agave syrup (or honey)
salt and pepper
I rarely toast bread or roast vegetables in the oven, I find that using a cast iron skillet is easier and faster.
Pour 2 TBSP oil into a cast iron skillet, add bread cubes, toss to coat cubes with oil and cook over medium heat turning frequently until toasted and golden brown, season with salt and pepper. Set aside.
Pour 1 more TBSP oil into same cast iron skillet and add brussels sprouts, toss to coat with oil and cook over medium heat turning frequently until golden brown. Add 2 TBSP water and put lid on skillet to steam brusslies. Turn off heat and let sit until all the water is evaporated. Place brusslies in a large bowl.
Mix 3 TBSP oil, vinegar, horseradish, and mustard together. Sprinkle ate (or guava paste) cubes over brusslies, add croutons, grated cheese, and pour dressing over the top. Toss well, season with salt and pepper if desired, and serve. I bet you'll like these brussels sprouts.
by Shelly Johnson