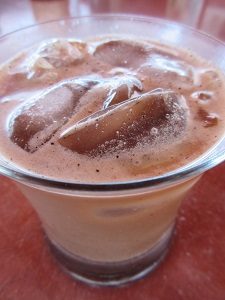 There is nothing we like better on a hot day than an iced coffee. So why not add some goodness like brown rice and almonds to make it a real treat. Now you can do this the easy way and that would be to simply mix already brewed coffee with almond milk and a pinch of cinnamon but hey, we have nothing but time, right?
1/4 cup brown rice (or white rice)
1/4 cup almonds, coarsley chopped
2 TBSP ground coffee
1/2 cinnamon stick, crushed
2 cups hot water
2 cups cold water
Sweetener of your choice
In a 1 litre container, add brown rice, almonds, coffee, cinnamon and hot water. Mix together, add cold water, and store in refrigerator overnight. The next day, pour contents into a blender and blend until mostly smooth. Pour through a fine mesh strainer (with a paper coffee filter if you are opposed to a little grit in your drink), add sweetener of your choice and liking (I added 3 TBSP of Hershey's chocolate syrup) and pour over ice.
Sip and feel the heat evaporating from your body and maybe you'll get through a warm afternoon without needing a nap.
by Shelly Johnson