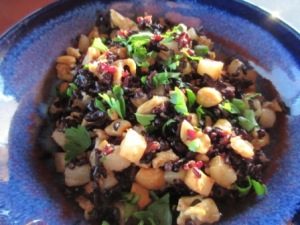 A visiting friend told me about this dish that she had at a restaurant in Thailand and they served it in a hulled-out pineapple and that sounded very cool. I'm not a huge fan of pineapple because it is too sweet to me so I added some zip to balance that out and I do love this dish. Thanks, Jen. I hope you enjoy my version. I'll make it for you when you are next in town.
3 teaspoons coconut oil
2 eggs, beaten
1½ cups chopped fresh pineapple (or canned)
½ cup green onions, green and white parts, thinly sliced
2 cloves garlic, minced
½ cup cashews, chopped
2 cups cooked and chilled white or black rice
1 tablespoon soy sauce
2 teaspoons hot sauce (like Sriracha)
1 lime
1/2 cup cilantro, chopped
In a cast iron skillet, add 1 teaspoon oil and heat over medium high. Add the pineapple, cooking until the chunks are lightly browned about 5 minutes. Add the green onion and garlic and cook another minute. Add the remaining 2 teaspoons of oil to the pan and add the rice and cook until the rice is hot, about 3 minutes.
Pour in the eggs and cook until the eggs are very lightly set. Add the cashews, soy sauce, hot sauce, and juice of the lime to the pan and cook for 1 minute more. Transfer to individual serving bowls and garnish with a sprinkling of chopped cilantro leaves. Enjoy!
by Shelly Johnson