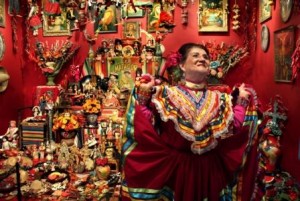 The UNESCO (United Nations Educational, Scientific and Cultural Organization), besides maintaining a list of World Heritage Sites, also keeps a list of the Intangible Cultural Heritage of Humanity. These are traditions or living expressions which are passed down through generations in the form of oral traditions, performing arts, social practices, rituals, festive events, or knowledge and practices concerning nature and the universe.
UNESCO proclaimed the "Indigenous Festivity dedicated to the Dead", or Día de Muertos celebration, as an Intangible Cultural Heritage of Humanity in 2003 and this proclamation was inscribed in 2008.
El Día de los Muertos is a tradition and celebration that has been a part of Mexico's culture for over 3,000 years.  This tradition has evolved over time and different regions of Mexico have different ways of celebrating.
It is a special occasion in which Mexicans remember and honor their family and friends who have passed on. The festivities take place each year from October 31 to November 2. The spirits of the dead are thought to return at this time to visit their relatives and loved ones, who prepare special offerings for them. Click here to learn more about Day of the Dead in Mexico.
You can join in el Día de los Muertos festivities at Guaymas' Festival de la Calaca.
Watch UNESCO's interesting video on Día de los Muertos: