Ocean Camp San Carlos is at it again!
Well, it has been way too long and it seems like we all are ready to hit the road, or rather the planes, or both. Our Ocean Camp's friends have been asking for a while when and where are we going next. So here we go:
Whale Watching Express. It has been a few years since we have gone whale watching in Baja Sur and this year we go back with a short and sweet tour to experience one of the greatest nature events: the East Pacific Gray Whales migrate from the cold waters near Alaska to the calm lagoons on the Pacific side of Baja California Sur to nurture their calves — and you get see them up close! We jump aboard the express flight on January 30, 2022 and you can read more information here.
Puebla and Mexico City (see more info below). We are introducing a new destination this year: the City of Puebla, whose historic district is a designated World Heritage Site. The tour will include visits to the towns of Cholula and Atlixco in the State of Puebla, and we are combining it with a few days in Mexico City. This tour departs April 29, 2022 and you can learn more about this tour in our webpage if you click here.
Guadalajara. La Perla Tapatía! One of our favorite cities to visit. We are going back to our touring origins and this time stay for a week in the centro histórico of this lovely city. We will visit the towns of Tlaquepaque, Tonalá, Tequila and the Chapala area. We take off on May 20, 2022 and for more information, click here.
Oaxaca. And lastly, another favorite: the City of Oaxaca! Come with us and discover for yourself why this destination is one of the top places to visit in the world. We stay 7 days in the historic district of Oaxaca City and from there we go on day tours to Teotitlán del Valle (weaving), Coyotepec (black pottery), Tilcajete (wood carvings), and other fascinating towns. We depart to this Southern State on October 18, 2022 and more details are here.
As you may remember, our groups are small and they are already forming, so get back to us soon if you would like to secure a space! We also have a stand-by list for our Copper Canyon Tour departing March 3, 2022. For reservations, please send us an email to oceancamp@me.com. Please visit and Like our Facebook page to receive updates about our tours. We are looking forward to hearing from you.
Mark and Miguel
Ocean Camp San Carlos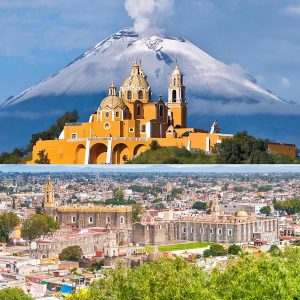 Departing April 29, 2022. Puebla and Mexico City. A new addition to our catalogue of tours! Join us in this new adventure to the "City of Angels", Puebla, a worthy World Heritage Site, famous for its Baroque architecture, its Talavera crafts and gastronomy; and get a glimpse of the sophisticated metropolis that is Mexico City, or CDMX as it is referred to by the capitalinos.
We start in the city of Puebla, the sprawling capital of the State with the same name and location where the famous Battle of 5 de Mayo took place. We take our time to visit the historic district with churches that took centuries to build, the mecca of Puebla's blue Talavera and learn about this artistic craft, and a day visit to the Pueblo Mágico of Cholula and Atlixco, all while we taste the traditional dishes such as the Mole Poblano and Chiles en Nogada. We then move to Mexico City, where we stay long enough to visit some of the most famous landmarks and sites, like the museums in the Chapultepec area, the Zocalo and Metropolitan Cathedral, and more.
This seven day tour includes round trip air Hermosillo-Mexico City, private transportation between San Carlos and Hermosillo airport, 3 nights lodging in City of Puebla, 3 nights lodging in Mexico City, private transportation in our destinations, breakfast every day at our hotels, local tours, bilingual escorts, and more. For more information, please visit our webpage here.
Departing May 20, 2022. A Week in Guadalajara. Jalisco is known as the land of Mariachi and Tequila, but it is much more! And we will be going to the epicenter of it, Guadalajara and surrounding areas, to discover all that it is. Come with us and see how urban settings, colonial architecture and Mexican traditions mix in harmony.
This weeklong tour takes us for a stroll on the historic streets of downtown Guadalajara, full of life and centuries old buildings. We will travel south of the city to the largest lake in Mexico, Lago Chapala, and visit the communities of Chapala and Ajijic. Shopping anyone? From earthy Tonalá to high end Tlaquepaque, we can find something for everyone. And not to be missed, the town of Tequila, where we will learn how this famous spirit is made.
This 7 day / 6 night tour includes round trip air HMO-GDL-HMO, private transportation from San Carlos to airport and back, 6 nights lodging in the historic district of Guadalajara, breakfasts at our hotel, day tours, local private transportation, fully escorted. For more information visit our Guadalajara Tour webpage.
For our 2022 Tour Season, we are also offering Whale Watching Express in Baja Sur, Copper Canyon Spring Edition, Puebla and CDMX, and Oaxaca. For reservations, please send us an email to oceancamp@me.com. To see pictures, updates, and more information about our tours, like our Facebook page.
photo of Teatro Degollado in Guadalajara

Or you may look at all of the tours at Ocean Camp San Carlos, here www.oceancamp.org and click on any tour listed at the top of the page.
You can also visit and like us on our Facebook page to receive updates and see pictures of our tours.
Make your reservations now by sending an email to:  oceancamp@me.com  and put the tour name in the Subject line. Give us the full name of the passenger(s) making reservations. Once you make your reservation by email, you will be given instructions on how to secure your reservation with a deposit.
We have groups forming for all of the tours already. Our groups are small and fill up quickly, make sure your name is in them!
Mark & Miguel
Ocean Camp San Carlos