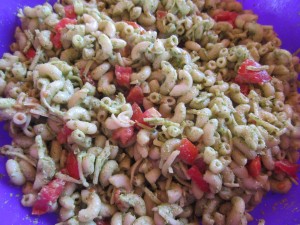 Our garden is winding down due to the heat so I'm using up the last of the tomatoes and basil. I wanted to try a 'different' version of basic pesto by adding parsley. I also wanted to experiment with the flavor of pecans instead of pine nuts (since these are so expensive), using a local cheese, and having the sauce be a creamier texture by using yogurt.
3 small pkgs elbow macaroni, cooked and cooled
2 cups packed fresh basil
1/4 cup packed fresh parsley
3 garlic cloves, cut in half
1 TBSP lime juice
1/4 teaspoon salt and pepper
1 tsp sugar
1/3 cup pecans, toasted
1/3 cup olive oil
1 cup grated Asadero cheese
1 cup plain LaLa yogurt (sin azucar = without sugar)
2 cup tomatoes, quartered
Cook macaroni according to package directions, drain and refrigerate.
In a blender, puree basil, parsley, garlic, lemon juice, salt, pepper, olive oil, yogurt, and nuts until smooth yet thick. Pour over macaroni, add cheese, and toss to coat, fold in tomatoes. Serve chilled.
by Shelly Johnson