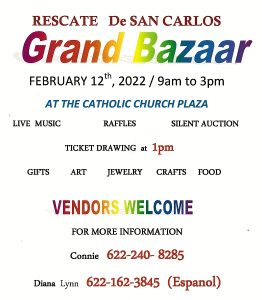 The annual Rescate Grand Bazaar will be held on Saturday, February 12, 2022, from 9:00am to 3:00pm  in the Town Square by the Catholic Church (the Rescate Marketplace is cancelled today).
It will feature more than 40 vendors selling good such as beautiful jewelry, arts, gifts and local crafts.  You can also buy delicious baked goods, hamburgers (sold by Rotary), and Tortuga's Bloody Mary's and drinks.
Come enjoy a stroll, browse the Market Place, listen to live music and have a bite to eat and a drink. There will also be a silent auction and raffle (with ticket drawing at 1:00pm). All proceeds benefit Rescate Emergency Medical Services.
Spaces are still available for rent for you to showcase and sell your wares. Please contact Connie 622-240-8285 or Diana Lyn 622-162-3845 to reserve your space.
Donations of baked goods as well as items for the silent auction and raffle are appreciated.
Is it time to Renew (or begin) your Rescate Membership? You can do so at the Rescate Grand Bazaar.
Remember — "It's YOUR Life — Join Rescate"
Keep Exploring … San Carlos Mexico:
Where to Stay. Check out the options on Booking.com: