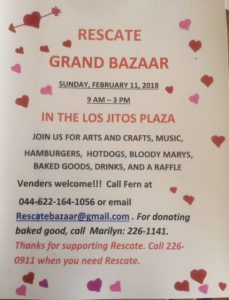 The annual Rescate Grand Bazaar will be held on Saturday, February 16, 2019, from 9:00am to 3:00pm at … location TBA.
It will feature beautiful jewelry and local crafts for sale.  You can also buy delicious baked goods, hamburgers, hot dogs, bloody Mary's and sodas.
Come enjoy a stroll, browse the Market Place, and have a bite to eat and a drink. All proceeds benefit Rescate Emergency Medical Services.
Spaces are still available for rent for you to showcase and sell your wares. Please contact Fern at 622-164-1056 or rescatebazaar@gmail.com. For donating baked goods, call Marilyn at 226-1141.
Is it time to Renew (or begin) your Rescate Membership? You can do so at the Rescate Grand Bazaar.
Remember — "It's YOUR Life — Join Rescate"