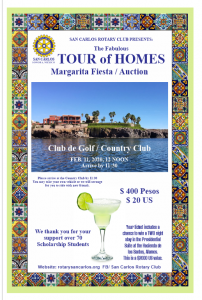 The San Carlos Rotary Club presents the 2020 Tour of Homes, Margarita Party and Auction on Tuesday, February 11 at Noon.
During the Rotary Tour of Homes, you and your friends will tour several unique San Carlos homes. You will be amazed by the beautiful architecture, decor and settings of homes located in our local area.
You can take your own ride or ride with someone else. Please be at the San Carlos Country Club parking lot at 11:30am. The tour leaves promptly at Noon.
Following the tour, the Rotary Club will provide you with a free Margarita Party with music by Mark Mulligan. Come prepared to enjoy and bid at the lively auction of priceless items provided by local businesses and Rotarians. You could even win a 2 night stay in the Presidential Suite at the Hacienda de los Santos in Alamos!
All profits provide educational scholarships for local students. The Scholarship Fund is professionally supervised ensuring the funding goes where needed. Rotary students graduate rate is over 95%. Our students are in high school, university, and technical school.
Ticket cost is $400 pesos or $20 USD per person. Ticket sales are limited, so get yours soon. Tickets are for sale daily at CiBanco and Santa Rosa Market and at the Rescate Market and Grand Bazaar (February 1 & 8).
Keep Exploring … San Carlos Mexico:
Where to Stay. Check out the options on Booking.com: