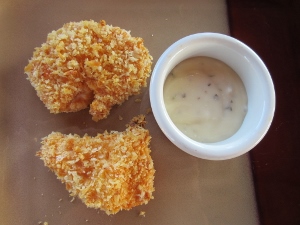 Here is crispy chicken that is baked, not fried, and that scorches your tongue to get your mind off our
sweltering summer weather.
2 boneless, skinless chicken breasts
1/2 cup flour
Salt and pepper, to taste
1 egg
1/8 cup milk
1/8 cup Franks hot sauce
3/4 cup Panko
1/8 cup peanut oil
Cut chicken breasts into 8 chunk size pieces or strips. Mix together flour and salt and pepper in a quart ziplock bag. In a separate bowl, mix together egg, milk, and hot sauce (you can omit the hot sauce if you prefer). In a third bowl, mix together the Panko and peanut oil (or whatever oil you have on hand).
Place the chicken pieces in the ziplock with the flour and shake to coat completely. Remove pieces and dip into the egg mixture, then pat pieces in the panko crumbs coating completely. Place pieces onto a baking sheet lined with parchment paper or a silicone baking mat. Bake in a 375 degree oven for 25 minutes.
Serve with something icy cold on the side; coleslaw….or a beer.
by Shelly Johnson