Figs are in season and if you are lucky enough to have a tree or know of someone who does, now is the time to pick and savor these luscious fruits (before the birds get them).
Besides just popping these in your mouth for a delightful snack, or putting them in ice cream or yogurt, how about a creamy, cheesy, salty, slightly sweet pasta? One of my craziest ideas yet, but it is really delicious!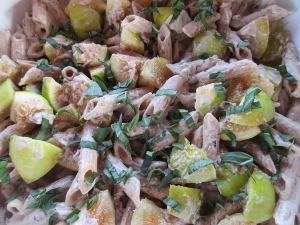 1 small package penne pasta
5 strips (about 1 cup) bacon, chopped
2 shallots, minced
1 garlic clove, minced
1 small box LaLa media crema
1 cup grated Parmesan cheese
6 fresh figs, quartered
1/4 cup torn basil leaves
Cook pasta in boiling water according to package directions; drain but reserve 1 cup of the hot pasta water.
Sauté bacon, shallots, and garlic in a large skillet over medium heat until bacon is crispy. Turn off heat and add cream, cheese, and hot cooked pasta to the cooked bacon and the grease left in the pan. Stir in 1/2 cup or more reserved pasta water until mixture is creamy. Toss in figs and basil and season with pepper to taste.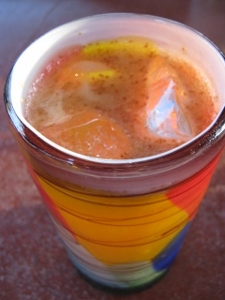 Fig Fizz Cocktail (makes enough for one)
4 small figs, sliced
2 TBSP mint simple syrup (recipe below)
1 shot vodka, bourbon, whiskey, or gin (whichever you prefer)
club soda
To make simple syrup; bring 1 cup water to a boil and add 1/2 cup sugar, stir until sugar completely dissolves. Remove from heat and add 4 whole sprigs of mint. When mixture is cooled, remove wilted mint. Store in the refrigerator.
Muddle the sliced figs with the simple syrup (the figs should really be mashed up). Add your liquor of choice, stir and strain into a highball glass filled with ice. Fill remainder of glass with club soda. Use the residual fig mashings over ice cream. I'm a freak for figs!
by Shelly Johnson