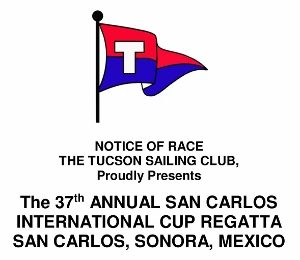 In the Tucson Sailing Club Spring Regatta, you can sail the warm waters of the Sea of Cortez and party with other sailors.
The Tucson Sailing Club in conjunction with the San Carlos Yacht Club presents the 37th Annual International Cup Regatta in San Carlos, Sonora, Mexico May 25, 26 & 27, 2018.
The annual regatta is a multi-day sailing event and includes a number of festivities. See the events schedule below.
Racing a single distance race each day of a two day competition around a course of islands and marks.
For more information (i.e., Notice of Race & Sailing Instructions), visit the Tucson Sailing Club's website or contact Race Chairman Peter Burgard, at burgardjd@aol.com or call (520-373-8129).
The registration fee is $65 USD. The race packet incluces course charts, regatta t-shirt, a Saturday evening Commodore's Party Buffet and Sunday night Award Banquet dinner ticket. The fee after May 16 is $75 USD.
All sailors are invited to enter the race.
Tucson Sailing Club Spring Regatta – 2018 Events Schedule:
Friday Evening, May 25
6:00pm. Kicking off the Race Weekend Festivities with a Welcome Party Marina San Carlos "D" Dock. Welcome captains & crews to the May Regatta. The party will be hosted by Hobie Fleet 514.
Saturday, May 26
7:30am – 8:30am. Regatta Registration: HammerHead's Patio Marina San Carlos.
8:30am. Skippers Meeting at HammerHead's with a continental breakfast hosted by Barracuda Bob's.
10:45am. First signal / racing begins.
6:00pm. Commodore's Cocktail Party at the San Carlos Yacht Club. Buffet dinner for $12 per person and no host bar.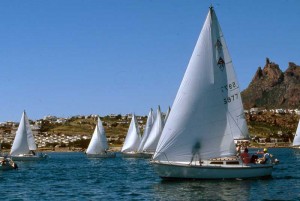 Sunday, May 27
10:45am. First signal / racing begins.
6:00pm. Awards Banquet Dinner: La Palapa Griega Restaurant. Dinner ticket required $25, no host bar.
For information on slip rentals, mast setup, launching, etc, contact Marina San Carlos at 011-52-622-226-1061.
If you're visiting San Carlos for the event, check out local hotels, condos, and vacation rentals.