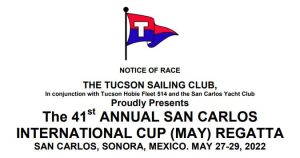 In the Tucson Sailing Club Spring Regatta, you can sail the warm waters of the Sea of Cortez and party with other sailors.
The Tucson Sailing Club in conjunction with the San Carlos Yacht Club presents the 41st Annual International Cup Regatta in San Carlos, Sonora, Mexico May 27 – 29, 2022.
The annual regatta is a multi-day sailing event and includes a number of festivities. See the events schedule below.
Racing a single distance race each day of a two day competition around a course of islands and marks.
For more information (i.e., Notice of Race & Sailing Instructions), visit the Tucson Sailing Club's website or contact Tony Krauss, Race Director at 520-955-2769, abkrauss@cox.net.
The registration fee is $60 USD for members and $65 for nonmembers. A $10 discount is available for early registrants. Fee includes race registration only.
All sailors are invited to enter the race.
Tucson Sailing Club Spring Regatta – 2022 Events Schedule: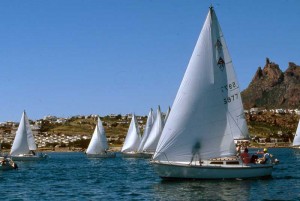 Friday, May 27, 2022
6:00pm – 7:00pm: Welcome Outdoor Dock Party – Marina San Carlos, Dock 'D'.
Saturday, May 28, 2022
7:30am – 8:00am: Race Registration and Race Packet pickup – HammerHeads Patio, Marina San Carlos
8am – 9am: Skippers Meeting – HammerHeads Patio, Marina San Carlos
10:45am – First Flag
TBA: Past Commodore's Party
Sunday, May 29, 2022
10:45am – First Flag
6:00pm: Awards Presentation – outdoors at La Palapa Griega, Posada Beach
For information on slip rentals, mast setup, launching, etc, contact Marina San Carlos at 011-52-622-226-1061.
If you're visiting San Carlos for the event, check out local hotels, condos, and vacation rentals.
Course Chart: