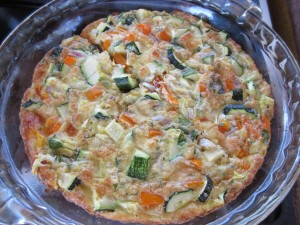 What could be easier than throwing together most any ingredients you like, baking them, and having a satisfying breakfast? Frittatas fit this bill and are very simple to make. This is certainly one of those dishes that anyone can make and you don't even need to measure anything. Throw in the amount that looks good to you. This is one I made recently so I've listed portions just to give you an idea of how much to put in.
6 eggs
1 zuchinni
1 bell pepper, any color
1/2 onion
1/2 cup grated cheese, any kind you like
1/4 cup media crema
Salt and pepper
Chop whatever ingredients you are using into small pieces; those listed above and/or mushrooms, tomatoes, etc. – get creative. Mix all ingredients together. Season with salt and pepper. Pour into a lightly greased pie or cake pan. Bake at 350 degrees for about 20 minutes or until firm (shake the pan and if nothing jiggles, it's done). Cut and serve.
Easy, fast, and very few dishes to wash; my kind of meal.
by Shelly Johnson