Scuba diving San Carlos Mexico: you've got to "sea" it to believe it.
San Carlos Mexico has great diving in the Sea of Cortez. The Sea of Cortez is recognized as having one of the greatest varieties and diversity of marine life in the world. Jacques Cousteau famously called it "the world's aquarium".
In a boat ride to a dive site and during a dive, you can see sea lions, dolphins, whales, mobula rays, lobster, octopus, sea horses, turtles, barracuda, nudibranchs, sea hares, moray eels, puffers, damselfish, rockfish and angelfish (cortez and king). You might even get lucky and encounter a hammerhead shark or whale shark.
It is important to keep the gills wet and San Carlos is the perfect place to do it. Scroll down for dive locations, yearly water temps, video, and reports with photos.
Before you head out, check the weather.
Be sure to visit your favorite local dive shop for assistance and information on diving around San Carlos.
San Carlos Dive Map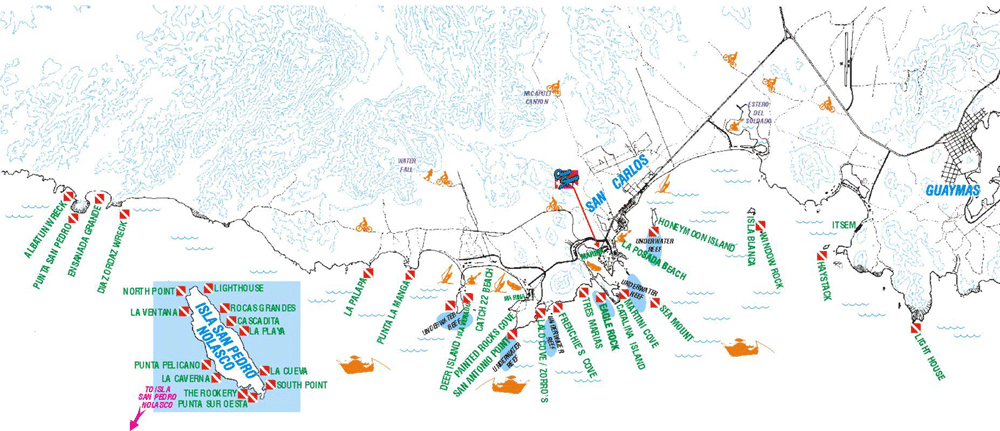 Where to dive?
San Pedro Island has several great dive spots, varying in depth and what you can see. The Lighthouse is always popular and a good place to dive with sealions. The lighthouse also has a short tunnel that's filled with fish. The sealions are always a highlight of any trip to the Island — they'll swoop down to swim through your bubbles or twirl in front of your mask. There's also usually a huge number and variety of tropical fish, like colorful king angel, scissor tails, sergeant major, parrot fish, red snapper, soap fish and butterfly fish. Head to the South Point to try to find the Hammerheads.
The Aquarium (Martini Cove). A local favorite for diving, snorkeling, kayaking and swimming. There's so much diversity of marine life, it's like being in an aquarium. And, it's only a 5 minute boat ride or short paddle from the marina.
Santos sunken boat. Near Eagle Rock, and around the corner from Martini Cove – it's an easy boat ride from either marina. More info
Catalina.  This is a great local dive sites due to its ease of access and diverse terrain and life.
Piedras Pintas (Lalos Cove). You can do some nice shore diving here.
Isla Venado (Deer Island)
Window Rock. There a really fun swim through here that's full of sealife.
Eagle Rock
Tres Marias
San Nicolas
Seamount. Located just outside the entrance to Marina San Carlos, this site is not often dove due to its exposed location. Depths range from 30 feet on top to below 100 feet, and currents can be tricky. Descending to 40 feet, you'll start to see colonies of Yellow polyp black coral anchored to the rock. Interspersed among the coral were large red and yellow sea fans and colonies of colorful gorgonians. Large, splendid Cortez angelfish added motion along with the shrimp and long-nosed Hawk fish which live amongst the coral branches.
San Antonio Point. The topography is unique and it always seems to offer up something new and different. During the summer months we've seen everything here from sea horses to whale sharks. Descend to 20 feet, and follow the reef out into deeper water. You'll find lots of big eels hiding in the rocks.
When to Dive: Yearly Water Temps
In December, the temps are around 60 F and you'll probably want to be using 7 mil suits and hoods and booties. By April, it's only warmed to mid 60's F. During the winter months, the boat rides are great though with dolphins, whales (including whale sharks and orcas) and mobula rays entertaining throughout the journey. When the water is cold, big crabs come to the shallow water, it's also a good time to find nudibranchs. You're more likely to be diving in sargassum seaweed with lower visibility during this time of year.
By June, surface temps have warmed to the 80's F … as you go deeper, it will drop a bit. Other than if you hit a chilly thermocline, the temperatures will stay warm to hot through October.
In November, the water starts cooling again. In places like Martini Cove, it can be in the high 70's F at the surface, but go to the low 70's at 50 feet. At San Pedro Island, it can be several degrees cooler. You'll probably want at least 3mm by now.
Diving in San Carlos Video
Diving San Carlos Reports
Diving San Carlos reports and photos have been provided by
Feliza Rios (El Mar Diving Center), Mike Huhn (Ocean Sports San Carlos), Russ Fontaine, Johan Broere and Becky & Jim.
Diving Report: August 10, 2016
Signs of climate change in the Sea of Cortez seem to be evident in the fish that are now found here in San Carlos.
For example, we saw 4 Guineafowl puffer (pictured left) this weekend at the backside of San Pedro Island (2 on the south side and 2 mid-island on the east side). This particular fish is usually found in the more southern waters by Cabo San Lucas, and are not spotted very frequently near Guaymas. Frequent diver, Annette Felix, told me that she has only seen this fish 3 times in the past 15 years diving around San Carlos.
The Guineafowl puffer is a relatively large puffer – growing to lengths of at least 20 inches. Like all puffers, this species is known for its ability to "puff up" when threatened. The Guineafowl puffer gets its common name from its resemblance to guineafowl birds. It is typically black and covered with small white spots. Some are bright gold with only a few spots (pictured on right). The range of this puffer is from Guaymas south to Ecuador.
The Stripebelly puffer is another "new" fish that has been spotted in San Carlos recently. Annette has only seen this fish 3 times in the last 4 years in our local waters. In a popular fish ID book, this fish is listed as "absent in the Gulf of California". In another book, it states that this fish is "seen only in the Cabo San Lucas area".
Climate and temperature changes may be the reason that we are starting to see fish that have not been here before. Another potential reason for the recent sightings of these two puffers is that storms have carried their fish larva further north. Or perhaps these fish used to be more common here, left in order to find Nemo and Dory, and are now just returning to make a comeback. Whatever the reason, it is fun to see new fish in this area.
Diving Report: August 3, 2016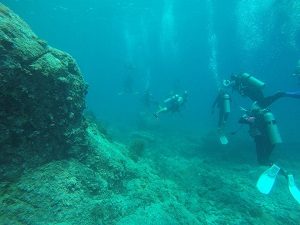 This past week, we had a number of groups come from the US to dive with us here in San Carlos.
Although the rain churned up the water close to shore, the diving was still fantastic over at San Pedro Island. With visibility at over 80 feet and water temperatures at 85 degrees at 60 feet of depth, there is nothing to complain about.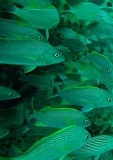 We were happy to spot some sea lions, as well as many King Angel and Trigger fish, lots of green moray eels, octopuses, and big schools of Scissortail fish. Pictured on the right is a school of Burrito Grunt fish.
On Saturday, August 6, we will be going to San Pedro Island, and have a few spots on the boat available, for both scuba diving (2 dives) and snorkeling.
Contact El Mar Diving Center for details.
Diving Report: July 26, 2016

While the fishing may be slow, the diving has been incredible. We've had another week of excellent visibility and warm temperatures in the Sea of Cortez.
Check out this video of curious, playful California sea lions entertaining a few scuba divers at San Pedro Island.
Have you ever wondered about the main differences between sea lions and seals? Both sea lions and seals, together with the walrus, are pinnipeds, which means "fin footed" in Latin.
Sea lions (pictured on left) are brown; have very powerful, long front flippers which allow them to "walk" on land; they bark loudly (anyone who has ever snorkeled, dived, or boated out to the Island can attest to that – the barking sounds almost ominous as it echoes off the rocks); and they have visible ear flaps. Sea lions are more social than seals, and congregate in gregarious groups. It's common to see them hanging out together on the rocks at San Pedro Island.
On the other hand, seals (pictured on right) have small flippers; are quieter, vocalizing via soft grunts; they wriggle on their bellies on land; and lack visible ear flaps – you have to get very close to see the tiny holes on the sides of the seal's sleek head. Seals are less social than their sea lion cousins. They spend more time in the water than sea lions and often lead solitary lives in the wild, coming ashore together only once a year to meet and mate.
Join El Mar Diving Center for a snorkel or dive trip out to San Pedro Island, and you'll get an up close and personal look at the California sea lions yourself!
Diving Report: July 19, 2016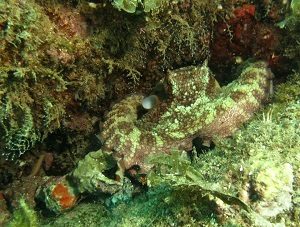 Last week, we had two wonderful dives at San Antonio Point and Martini Cove. The photo shows an octopus with beautiful coloration, found at San Antonio Pt. With its massive bulbous head, large eyes, and eight distinctive arms, the octopus is unique for its appearance alone. But according to National Geographic, its most striking characteristic is the wide array of techniques it uses to avoid or thwart attackers. As you can see from the photo, it is able to hide in plain side. "Using a network of pigment cells and specialized muscles in its skin, the common octopus can almost instantly match the colors, patterns, and even textures of its surroundings. Predators such as sharks, eels, and dolphins swim by without even noticing it."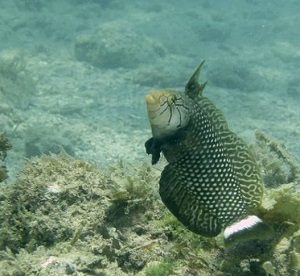 If an octopus is discovered, it will release a cloud of black ink to obscure the attacker's view, giving it time to swim away. They are generally fast swimmers, and their soft bodies can squeeze into impossibly small cracks and crevices where predators can't follow. If all else fails, an octopus can lose an arm to escape a predator's grasp and regrow it later with no permanent damage. They also have beaklike jaws that can deliver a nasty bite, and venomous saliva, used mainly for subduing prey.
The octopus is considered the most intelligent of all invertebrates. You can find them throughout the temperate waters in the Sea of Cortez. They can grow to about 4.3 feet in length and weigh up to 22 pounds, although averages are much smaller, like the octopus pictured.
Martini Cove had the most variety of less frequently seen fish, including large schools of Yellowtail surgeonfish and Gafftopsail pompanos, two large green morays out free swimming, three kinds of parrotfish, and more.
A huge Stripe belly puffer fish was hiding in the rocks, and when he saw us, he fled very quickly. This rare guy was one of 5 different puffers we saw at Martini Cove. And at the end of our dive here, almost right under the boat, was this beautiful Rockmover wrasse…another rare find! (pictured on right). It derives its name from its behavior of upending small stones and reef fragments in search of prey.
The water temperature is a lovely 87 degrees and amazing finds just keep continuing, so get underwater today to experience it all.
Diving Report: July 1

A group of 14 went out for a great weekend of diving at San Pedro Island in San Carlos. Congratulations to 3 new divers who passed their Open Water final certification with us on Sunday too. Click here to see a short video of them underwater, enjoying a whole new world under the sea.
On the way out, we spotted some turtles on the surface of the water. It seems like there are more turtles in the Sea of Cortez than have been in the past, which is excellent news for their population, and for us!
With water temperatures currently hovering around 80% underwater, there's no need for a wetsuit, however some divers prefer to wear a Lycra dive skin to protect themselves against scratches or abrasions from rocks and potential jellyfish stings. The visibility was 40 feet, which made for a very clear dive. We saw lots of playful sea lions, a few barracudas, octopus, and cabrillas. We also saw several specials of beautiful starfish.
The high water temps make scuba diving ideal at this time of year. Come on out and try it!
Dive Report: June 25

The water was great this past weekend for scuba diving and snorkeling! On Saturday, we dove Rocas Grande and La Cueva at San Pedro Island. The visibility was 50 – 60 feet and the water temperature was a comfortable 83 degrees! We found lobster, eels, and even a seahorse while at the island this past weekend.
On Sunday, the wind from the south picked up early, so it was a little choppy going out. Once at the dive site, 
San Antonio Point, we were out of the wind and enjoyed 30+ feet visibility and 86 degree water. We found huge schools of Sergeant Majors and Scissor tail damsels, lots of juvenile Jeweled Morays, Stingrays, Cortez Angels and a some octopus.
The dive season is here.
We hope you can join us soon!
Diving Photos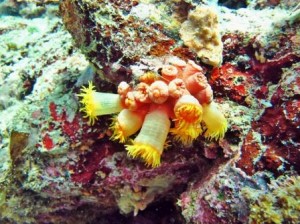 There is lots to see (but you can't see it from the couch), so come on down and try diving San Carlos Mexico.