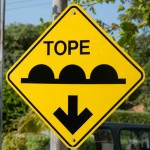 Driving to Mexico is easy and safe. Rules of the road are similar to the US and Canada. Follow these tips and you'll be well on your way to an enjoyable drive through Mexico … down to San Carlos Sonora!
Driving Directions – from Phoenix and Tucson to San Carlos, Mexico:
Take the I-10 east to Tucson, Arizona. From Tucson, head south on Interstate 19 to Nogales, Arizona. If you stay on I-19 until the border, you will have to go through down-town Nogales. There is a second border crossing option that is often quicker and easier (especially if you are in a larger vehicle or towing a boat or RV) — take the Mariposa border crossing (aka, the truck crossing) at Hwy 189, exit 4. This crossing is open from 6:00am until 10:00pm. The Nogales crossing is open 24 hours.
Once you cross into Nogales, Mexico, continue south on Highway 15. You will pass several towns on the way. The most notable are Magdalena, Santa Ana and Hermosillo. If you don't see a sign saying San Carlos, don't panic. After Hermosillo, you will see signs for Guaymas. The Guaymas airport is 10 minutes from San Carlos. You will see the San Carlos sign as you get closer to Guaymas. From Phoenix, it is approximately a 7 hour drive. From Tucson, it is approximately a 5 hour drive.
Check below for a detailed driving map from Arizona to San Carlos Mexico.
Driving across the Border into Mexico
When you arrive at the border, drive slowly to the spot with the stop signs. Continue to drive slowly and look left. You will either see a flashing red Alto (stop) sign, or a green Pase (go). If it says Pase, do just that. Go on your way and begin the last four hours of your trip. If it says Alto, pull over to where the Mexican border patrol officers direct you and answer any questions that they have. Usually, it is "What is your destination?", or they may quickly look in the trunk of your car and then allow you to go on your way.
When driving into Mexico, you have to stop at Kilometer 21 to get a Tourist Visa. This checkpoint is very well marked. Go to the white building and show the immigration official your passport, then complete and sign the Visa form that the officials will give you. They will then stamp the Visa and fill in how many days it is valid for. Take the Visa to the adjacent bank and pay the fee.
Foreign vehicles may be driven in the northwest of Sonora without any temporary vehicle importation permit (this includes San Carlos and Guaymas). Otherwise, if you will be traveling outside of the "Only Sonora" Zone, you will need a permit for your vehicle. You can get one at km21 or apply for one online and it will be mailed to you.
You can check border crossing times and conditions here, here and here.
The Hermosillo By-Pass
The Hermosillo Bypass Road is now open (as of end of May, 2019).
The Sonoran government has built a bypass toll road around Hermosillo (facebook page). It's just over 40 kilometers and the claim is that it will save 40 minutes of travel time between the border and places south of Hermosillo. The goal is also to prevent heavy vehicles from traveling through the city.
The cost per car is 113 pesos.
Watch for the signs for directions going north and south along Highway 15.
The turn going North is well signed. Before Hermosillo, there's a ramp to the right.
Going South, go through the Hermosillo tollbooth and watch for the sign for Guaymas. Follow the Guaymas exit, on the left. This video shows the southbound on-ramp ramp:
Hermosillo bypass: No more u-turn to get to it 😃👍🏻

Posted by Jules Akin on Saturday, February 1, 2020
Book Your San Carlos or Guaymas Vacation Rental (with Booking.com)
Car Insurance for Mexico
Make sure that you have car insurance for Mexico if you are going to drive in Mexico, because U.S. and Canadian insurance policies are not recognized here. For a free online quote, visit Sanborn's Insurance. If you have any questions about purchasing car insurance for Mexico, you can talk to insurance agent Julie Akin, who lives in both San Carlos Mexico and in Tucson Arizona.
Handy numbers for when you are driving in Mexico: Emergency Numbers and information on the Green Angels.
Bring Your Passport to Mexico
Do you need passport to go to Mexico? Yes!
Mexico Map & Toll Information
The Secretary of Communication and Transportation has a useful tool on their website. Input your origin and destination and the application will map your route and give estimated driving time and toll costs. It even lists toll locations, so you can start preparing your 'cuota' in advance.
There are tolls shortly after the border in Nogales, in Magdalena and before Hermosillo. The toll fees must be paid in Mexican pesos, so come prepared (US dollars and credit cards are not accepted). As of June 2018, these 3 tolls cost 61, 27 and 79 pesos for a total of 167 pesos.
There are clean public bathrooms at the Magdalena and Hermosillo toll areas.
Gas Stations:
There are plenty of Pemex stations along major routes. All stations are full service. "Lleno (pronounced yay-no) means "fill it" and Magna Sin is unleaded. "Lleno con magna" = fill it with unleaded.
The gas stations are usually equipped with restrooms, but bring your own TP and hand sanitizers. Many pit stops charge to use the restrooms, so keep plenty of small change handy.
Checkpoints:
When driving in Mexico, you may come to a police or military checkpoint. I've always found the officials to be polite and friendly. I usually roll both my front and back windows down so they can have a quick peak inside. They usually just ask where you've come from and where you're going. Just politely answers, and you'll be on your way in no time. Often they'll wave you through before you've even come to a complete stop.
Topes:
When driving in Mexico, watch out for the topes. Topes are speedbumps, but in Mexico they're huge and cars often come close to a complete stop before proceeding.
More Tips for Driving in Mexico:
Driving is on the right side of the road in Mexico.
Traffic signs are in Spanish. ALTO = STOP (which is in the familiar red octagon).
Mileage in Mexico is marked in kilometers, which are approximately .6 of a mile.
Driving at night is challenging because there often aren't lights on the highway. It's better to drive in the day.
What can I bring to Mexico?
Read what you can bring with you to Mexico.
Driving Distance from U.S. Cities to San Carlos
Phoenix, Arizona: 429 Miles
El Paso, Texas: 593 Miles
Las Vegas,  Nevada: 722 Miles
San Diego, California: 723 Miles
Albuquerque, New Mexico: 724 Miles
Sante Fe, New Mexico: 786 Miles
Los Angeles, California: 801 Miles
Denver, Colorado: 1,172 Miles
Driving in Mexico Map – from Tucson to San Carlos